14 Feb
Essential steps to follow before attending a Tech Event in 2020
By Tech, B2B business, internationalisation, Tech events
Having the opportunity to discuss face-to-face with leaders in the tech industry might be a challenge in our fast-going world. A tech event or a big conference not only offers you the opportunity to talk with prospects but also places your B2B business into the spotlight for new opportunities, as your ideas are spread and shared through new industries and cultures.
Fortunately, many companies allow time and resources to attend conferences, which means that not only small and medium companies go to make themselves more visible, but also big players in the B2B industry. Recent research shows that face-to-face interaction is the key to maintaining and developing authentic relationships. By meeting certain people on various occasions, such as a tech event, you can build and nurture quality relationships. People are often available to wear in-depth conversations with the ones they have already met.
The list of advantages of attending a tech conference is unlimited, from generating new business collaborations to getting inspired for your projects. Thereby, attending conferences and meetings represents a crucial strategy for your company. For this reason, it is essential to plan wisely and take advantage of every single piece of information.
Build an event strategy and follow the plan
Choosing which tech event to attend is the first step. Each company applies a different approach at this point, which is highly dependent on the final goal of the attendance. However, some primary considerations might help in choosing the right events.
Even if your company is not the organizer, your attendee role requires some research and planning. Tech events have significant potential in reaching your B2B company's goals, but first, you need to set clear goals for each event or conference attended. Here are some examples of event participation goals:
To improve business relationships
To retain customers
To generate leads and business opportunities
While event attending can succeed with multiple goals in mind, prioritizing them will help with organizing and measuring the results, and help you optimize the strategy for the next opportunities.
"Attending events offers the chance to establish authority in your industry by creating and nurturing meaningful relationships built on credibility and trust."
Research thoughtfully and be selective!
Keep in mind that networking time at events is often short, so you need to make the most of your time there. Handing out business cards with no further interaction is equal to making sure your card ends in the trash.
Instead, use this networking time to establish meaningful relationships with targeted persons. These persons might represent potential business partners and the connection might be built in one meeting only, or during several. This is why attending more events changes the game.
If you're coming from a country with a relatively small tech market, it will be good that you attend the popular events in the region so you can keep the image of your brand strong. Usually, in small countries, there are around three big events.
But for the long list of tech events in Europe, plan your trip! Usually, before attending the event, the list of participants and attendants is made public, so this is a great moment to choose which event will benefit your company. At this time, you can look for the companies that might represent a potential partner, or for the people with who you've already interacted in the past.
Platforms such as Linkedin and Xing are a useful link, and they offer the best communication channel for B2B businesses. You can look there for the events that are happening, the speakers and participants that take part in the event. Once you decided which event is suitable for your company, you can start connecting with the people from the companies on your list or with the speakers. You can introduce yourself via the platforms mentioned above or with an email, letting them know that you will attend the same event and that you see some business synergies. People would be more likely to accept a face-to-face non-formal meeting than an online business call. Depending on your time, you can either ask them on a coffee during a break, or you can meet them at their booth, or you can have lunch together. There are plenty of possibilities.
74% of business buyers conduct more than half of their research online.
It is crucial to mention that your online presence is an important factor when setting up business meetings. Your interlocutors will create the first opinion on your company by checking for it online. This is not only about up-to-date information on your social media profiles. Here are some winning strategies for your online presence as a B2B company: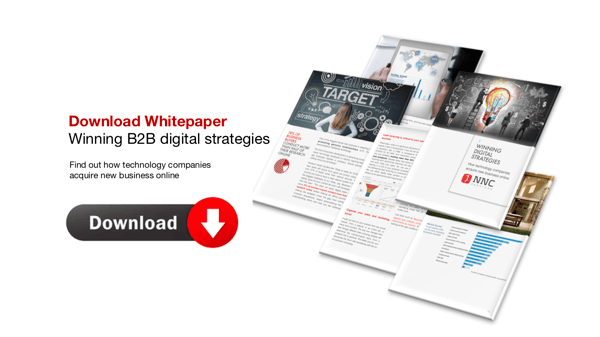 Check out some European tech events to attend in 2020
The event presents the latest developments and innovations from the financial sector's technology pioneers, from business transformation to robotic automation, customer innovation to ethical transparency.
One of the most important European events Eastern in the IT industry, dedicated to tech startups, to explore visionary ideas, groundbreaking projects, and dynamic markets.
App.js Conf connects people that joined the React mobile programming team at the very beginning. The event is dedicated to developers and companies using Native and JavaScript.
The Digital Publishing Innovation Summit brings up-to-date with the rapidly changing digital media landscape, dedicated to business executives leading digital publishing initiatives.
The meeting point for pioneering entrepreneurs to look into future trends, dedicated to a community of selected startups, executives and investors.
The event presents the latest emerging technologies with exhibitions covering 3D Printing, Electric Vehicles, Energy Storage, Graphene, Internet of Things, Printed Electronics, Sensors & Wearable Technology.
11 technological stages where topics like IT, marketing and business scaling are discussed.
The world's largest low-code gathering for hands-on learning, education, and inspiration Making Mendix World an annual conference underscore the growing worldwide interest in low-code application development for business and IT leaders.
It's the only conference of it's kind in Europe focused on Sales and Revenue Leaders. The event gathers 750 of Europe's best leaders with the following titles: CRO, Sales VP, Sales Manager, Sales Development Manager, Sales Ops, Sales Enablement and Marketing, focused in the B2B SaaS industry.
The summit gathers under one roof the brightest entrepreneurs, executives, investors, students and academics to collaborate, network, pitch, get inspired and showcase their tech innovations. It is the biggest gateway in Europe for innovation actors.
Web Summit brings Fortune 500 companies, groundbreaking startups and world-class speakers to redefine the global tech industry.
Speakers from Swiss and international companies will share their experiences with Artificial Intelligence, CI/CD, Performance Testing, Culture, and other tech-related fields.
The Next Web conference is branding itself Europe's leading tech festival. The event brings the world's leading thinkers, investors, startups, and brands together to shape the future of tech.
Have you already decided which tech events will attend your B2B company in 2020? What about your strategy as an event attendee? Make sure you plan wisely and make the most out of your time at a conference.
Get in touch with us and we can help you create a successful networking strategy and planning for your business meetings.
Related posts:
Latest Posts

B2B Sales Prospecting with digital lead generation
July 30, 2020