30 Jul
B2B Sales Prospecting with digital lead generation
By b2b lead generation, LinkedIn, prospects, B2B business, sales prospecting, buyers, b2b customers
Prospecting for quality B2B sales leads with your website and blog
B2B Inbound marketing channels may be used to target the buyers who are looking for your type of B2B solutions and services. Amongst growth and digital sales professionals, there is a saying that "If you are not on the 1st page on Google, you do not exist in the digital space at least for your prospects".
Although many times that is true and investing in SEO is a long term bet, I will argue here that even for those that are not on the 1st page, there are many digital assets they can leverage. In this article, you will discover which B2B prospecting method is the most effective and why.
If you are interested in learning more about B2B prospecting and getting 50 qualified leads this quarter, register for the upcoming Prospecting Academy: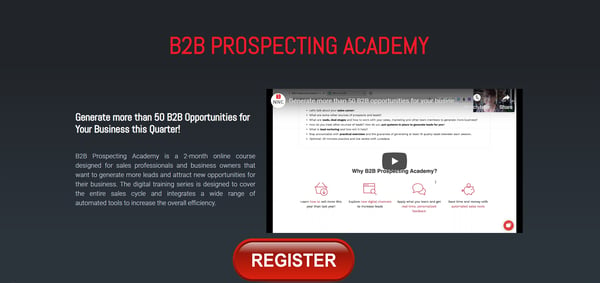 Your B2B Website is a lead generation machine
A website with relevant content that provides multiple ways for customers and partners to open a conversation with the company and to obtain additional information represents a great advantage, suitable for all the potential customers. The Website is the business card of the company in the digital space environment.

Buyers search on the Internet for alternative solutions and services like yours, whether through the website or through social media networks like LinkedIn. If the website is optimized for the search engines (SEO), it will be easily found by potential customers, mainly when they search for different keywords related to their needs and your website content. Use a free tool like Website Grader or other tools to find out how and what you could improve about your Website in order to get more prospects visiting your Website.

Many times, even if you are not on Google's first page, you still get traffic to your Website, but not too many sales teams are taking advantage of the prospecting tools like your Website's actual traffic. You would be surprised to find out how many prospects that fit your buyer persona actually visit your Website. If tools like Google Analytics do provide plenty of data for free, they may be hard to read for you, or you may need some technical help to decipher the relevant prospecting data. Try to implement the Free Hubspot CRM that gives you an amazing and free prospecting tool, identifying exactly who visited your Website and allowing you to filter and pick the right fits you then can follow-up with.

Connect with us to implement this free B2B CRM and sales prospecting tool in 48 hours. We would love to show you how that's done but also explore together new prospecting and sales opportunities for you and your business.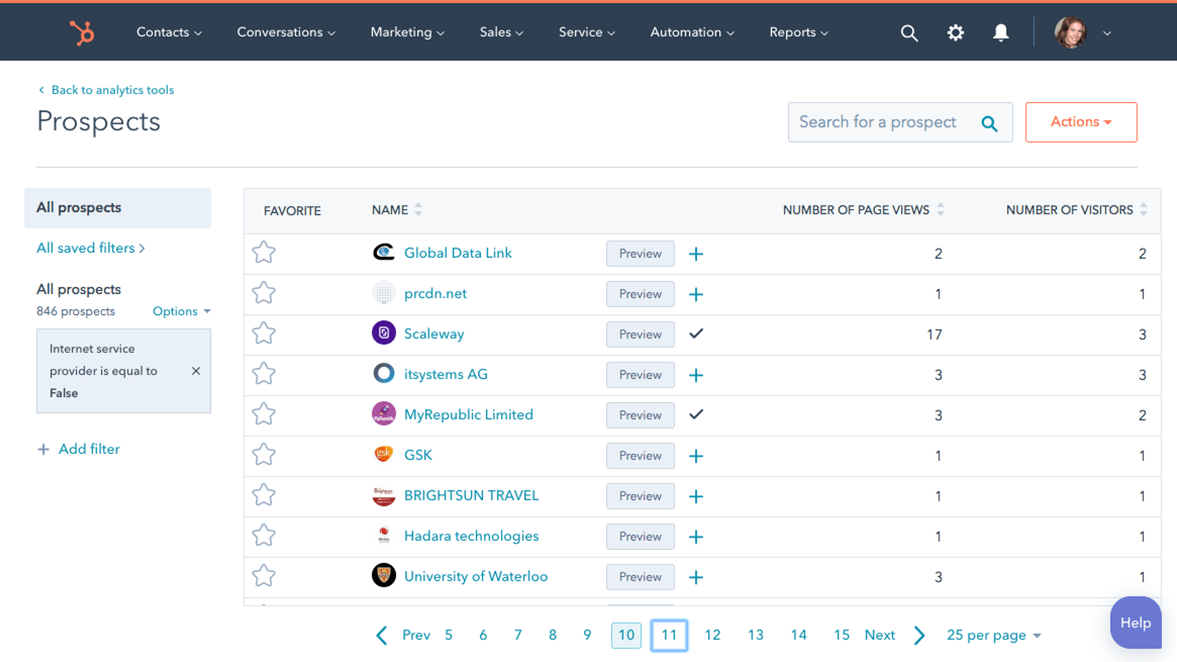 photo source: HubSpot
Here are some recommendations to get more leads and prospects from your Website while using it as a lead generation and prospecting tool:
Create a simple and intuitive menu and submenu sections;

Create separate pages for each menu item;

Add more information about your team;

Add and periodically update a list of customers. Customer success stories will help skeptical potential clients to start a conversation;

Build a separate section for Partnership, Awards, and Certificates;

Create compelling and relevant content for SEO focusing on your targeted customer profiles on topics of interest;

Include social media links on your Website;

Share knowledge through a blog or news section to ad value to your visitors and educate your customers;

Provide plenty of good white-papers and e-books for download and add forms to capture visitors data;

Add videos to make your Website interactive.



Your Website is your business card. Over 80% of prospects that you contact will visit your website BEFORE they accept a conversation with you. Make sure your Website reflects your services, solutions, quality, and communication style to be able to convert website visitors from prospects into buyers through a streamlined lead generation, nurturing, and sales process.


How can a Business Blog help you prospect a high profitable customer?
In any digital campaign, having and updating a blog (linked with the website) is vital for increasing the website traffic and its search-ability (SEO, awareness and industry experts, etc.). Prospects who search for your services or need to read about it will look through your website, blog, and social media profiles like the one you have on LinkedIn.
By publishing at least four articles per month, ideally 8 to 10 pieces of content like blogs and visual content like infographics and videos, your prospects will see you and your business as experts in your industry, thus generating inbound traffic also potential leads.
Here are some recommendations for prospecting more inbound B2B leads through your Blog or News section of your website:
Set up a blog section on the website and write at least 3-4 articles per month;

Do not sell or promote your services and activities but focus on relevant topics for your audience. You can occasionally mention your solutions and ideally use it as a digital funnel entry point but do not take the sales attitude or you will turn people off from your website;

Promote the blog posts on Social Media Channels (Facebook, Twitter, LinkedIn, Medium or Quora);
Create SEO optimized content, relevant content on topics your audience has indicated to be relevant. If you do not know what your audience is looking to, try tools like answerthepublic.com;
Insert video content/video posts on the blog, from your Youtube channel, place a strategic and relevant call to action alongside a tracked URL at the end of your video. Just make sure it fits into your overall story, making a cross-linking from Blog to Youtube channel and reverse. Same with all the other social media outlets, like your Linkedin company profile;
Organic search can be an excellent traffic stream that helps your website increase its visibility, find new prospects, convert these to customers, and ultimately be an excellent revenue source for your company. The optimization of the website content for search engines will bring results in the long term;

The topics for the blog posts must be relevant to follow the current trends and to educate the visitors of your website.;

The main benefit of blog articles is to attract qualified traffic on the website, either clients, potential employees, or partners who also might be actively searching for new partners with specific expertise and resources.

Marketing collaterals and referrals can turn visitors into leads and leads into buyers
Marketing collaterals are a great way to drive traffic to the website and create awareness regarding your company and its services.
Marketing collaterals – Presentations, white papers, sales brochures;


Customer case studies will help potential clients get an idea of what you can do as a provider/partner;


Market data, studies and analisys need of your solutions and services or products obtained, for example, even by your team through B2B interviews with a potential client, can be shared to capture prospect's interest;


Word of mouth, storytelling, or referral programs are excellent methods to spread goodwill and consumer satisfaction. The customers acquired through referral campaigns have a higher value and contribution than those of non-referred customers.
There are many ways to drive B2B leads, come classical some new and innovative. The best ways to generate prospects through your website and other digital assets like your business blog are sometimes just making sure that some of the basics are covered. Buyers love to get informed, to get help, and turning prospecting from a process of a sales push to adding value, can provide you with many new opportunities. If you would like to learn more about B2B prospecting register for the upcoming B2B Prospecting Academy, a digital lead generation live interactive program meant to equip you will al the right prospecting tools and methodologies to generate leads right away.
B2B networking opportunities in the social media space today provide many sales opportunities. However, if a prospect will do some background check on your website, they need to find relevant information that can convert them into a lead.
If you need help identifying the right buyers for your business, automating led generation or getting reliable prospecting process for your sales, do contact us. We are providing a free digital assessment session to share the best B2B prospecting methodologies.
Latest Posts

Stop Selling and Start Helping. Now, More Than Ever.
November 25, 2020

Tips for Planning Your B2B Digital Marketing Strategy
November 25, 2020

Best Marketing Automation tool for Microsoft Dynamics 365
November 18, 2020

How to plan your B2B Marketing Strategy for 2021?
November 13, 2020

The Pardot VS Hubspot Migration and Switch Guide
November 11, 2020

The 2021 B2B Lead Generation Prospecting Strategy for RevOps
November 9, 2020