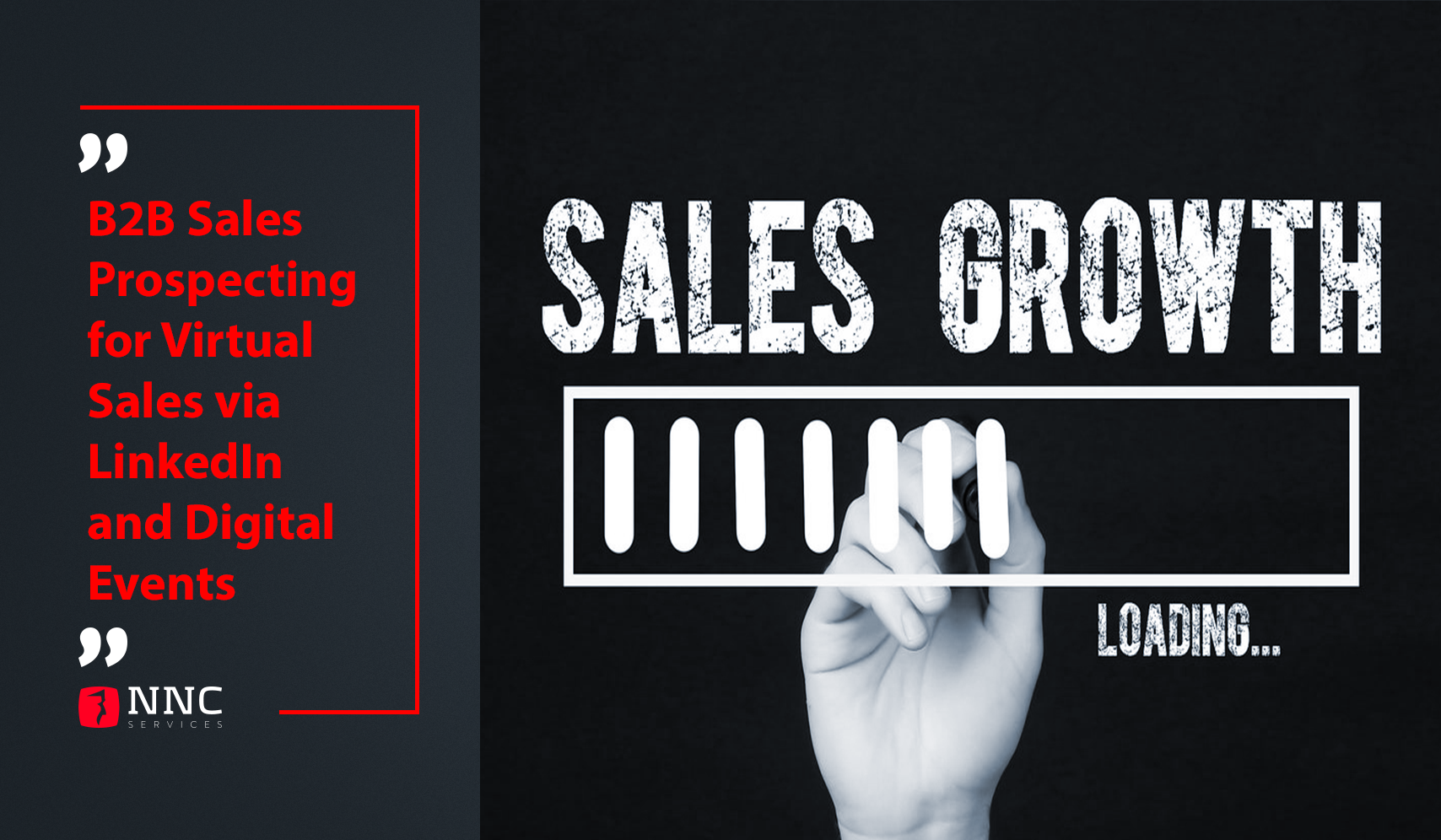 b2b lead generation B2B Marketing LinkedIn prospects B2B business b2b prospecting sales prospecting b2b buyer
10 Aug
B2B Sales Prospecting and Virtual Sales via LinkedIn and Digital Events Networking
By b2b lead generation, B2B Marketing, LinkedIn, prospects, B2B business, b2b prospecting, sales prospecting, b2b buyer
In a previous article, we mentioned how you can do "Prospecting for quality B2B sales leads with your website and blog".
This year, studies show that 89% of B2B salespeople and marketers use LinkedIn for lead generation because LinkedIn produces two times more marketing engagement in B2B prospecting than any other social channel. A recent study from Octopuscrm proves that in 2020, 80% of B2B leads came from LinkedIn.
We have a full coaching program that explores in depth each prospecting method and practice. Join the B2B Prospecting Academy for a unique experiential learning program with like-minded B2B senior business developers to learn how to generate at least 50 qualified leads this quarter.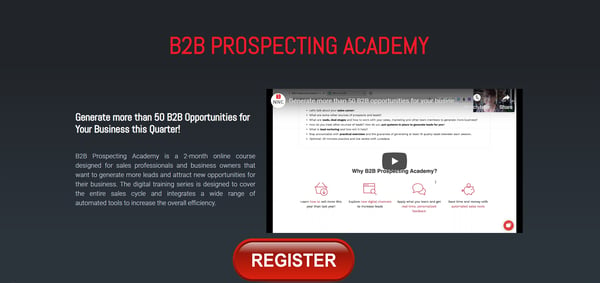 LinkedIn networking and prospecting for B2B social sales (can also be used with Xing as a B2B social sales and marketing strategy)
A LinkedIn strategy is vital for your success with social sales. A good LinkedIn strategy must explore all aspects of LinkedIn marketing. There are proven benefits with using LinkedIn for digital marketing and sales, and here are some prospecting strategies:
Expanding your network of contacts will allow you to directly reach more target people, like decision-makers that you are targeting.

Create awareness regarding your brand and services with key stakeholders (buyers, partners, customers, employees, hiring candidates).

Drive quality traffic to your website and digital assets.

Create a personal brand on top of your company profile. Then join different groups with specialists in your industry and start conversations with them. Also, start writing short articles on LinkedIn Pulse to generate more traffic to the website. At the same time, promote the events you are attending, post images from the event and create post-event posts to express your opinion about them (this is also an excellent way to include a tag with the organizer and get more attention on LinkedIn).

Host Webinars and position as a thought leader
Hosting webinars and digital events is one of the best marketing strategies for your B2B business. Get some influential people in your industry to support you and speak at the events. Promote the event, online and offline, record your webinar and publish it or other hosted content on your website. You can use both the webinar and a well-fundamented video content strategy as another way of gathering prospecting leads. As video content is an essential marketing strategy nowadays, you can publish the webinar or digital event recording on your Youtube channel.

Youtube is a great channel to educate the target audience and to attract potential clients. You can use it both for prospecting as well as for marketing inbound to leads.

Webinars and other types of digital events can increase the number of engaged quality visitors on your website. This type of marketing content can also help you with nurturing the lead through the sales funnel. You can achieve it by sending pieces of video content that address specific customer opportunities or concerns across the lead conversion phases.

Webinars can also be promoted on YouTube and third-party platforms to attract more users.


Social sales and social media networking for B2B Sales
Facebook, LinkedIn, Twitter, Youtube, Medium and Quora - Social media channels have the benefit of facilitating direct communication with your target audience in real-time and provide the possibility to create a two-way dialogue, not a monologue, like on other communication channels.
Social media channels contribute to increasing website traffic, usually placed among the first three traffic sources.

Post business updates, promote blog posts, share useful articles, get instant feedback, interact with prospects in real-time.
Increase the number of people engaged: visits, people engaged in conversation, wall posts, likes, comments, inquiries, feedback.

Generate quality traffic for the website.

Use the Facebook page, especially for employer branding, to attract high-quality candidates more easily and to advertise your own events or the events you are attending. Here are some types of content you can include: links with the blog posts, images with the team, fun facts about the company, awards, testimonials, images/videos from events, interviews with team members, and many more.
Increase online presence on Social Media, especially on Twitter, Linkedin, and Youtube, with regular content updates on different networks to build a business community, to educate your leads targeted prospects, and increase engagement with other stakeholders.

Increase the number of Youtube Videos to attract more subscribers on this channel. Create more videos like this to help people understand exactly what you provide and the value of your solutions and services. Figure out a way to provide more value, to be on top of mind for your leads.

Increase Twitter activity to attract more followers on this channel as Twitter provides more B2B lead generation and engagement in specific locations, like the USA. Make sure your Twitter and any other social media channels are interesting for your leads, that you provide free valuable insights and a way to get inbound sales.




Your Linkedin and Social Media Professional Profiles as a lead generation magnet
Create a personal profile and start sharing the exciting information relevant to your prospecting goals. Follow relevant influences in your niche, appreciate great valuable ideas from others so that you get attention from your targeted leads, comment on their posts, send private messages to express shared ideas and valuable things you noticed. For the ABM (account-based marketing) and sales processes, your LinkedIn profile is a must-have. Lead valuable interactions and conversations threads, so people perceive you as an expert.

Consider niche blogging platforms like Medium as an excellent platform used for driving traffic back to the website, and also for increasing awareness.

Quora: one of the key ways you can interact with valuable prospects is by answering and getting a high score on your Quora answers. Prospecting is all about figuring the lead needs and make it easy for them to buy into your offering. You can get all questions and objections on your category of solutions from Quora. You can also test a certain positioning statement or any other prospecting questions you may need to be answered.



Paid advertising as a critical lead generation strategy
Paid advertising is vital in B2B. If you know your buyer persona, if you understand how they need and do not have 8 months and high budgets to invest in SEO, so you get listed on the first search page on Google, paid advertising is a shortcut that can get you known and get you qualified leads and traffic in no time.

Google Ads (AdWords), LinkedIn Paid Ads, Xing and Facebook paid advertising are vital for B2B, at least in the first stages of strategy execution, to refine the traffic, and to reach more rapidly the intended target audience. LinkedIn paid lead generation forms of Facebook lead generation are ways to get leads directly with a great ROI on your sales.

Paid advertising (by Google Search Ads) is an essential element of a comprehensive search engine optimization strategy because it brings quick results - it is one of the fastest ways to drive quality traffic to your website. By positioning the website in the first search engine results, a lead quickly identifies you as a trusted provider. Remarketing to your qualified prospects list ensures that you are top of mind for your lead, and you get brand awareness.

The online banners (Google Display Ads) can also be useful communication and accessible tool when placed on relevant websites for your business. It helps with Brand Awareness and Consideration and can be useful to promote your USP through different online banners.
Paid advertising on Facebook (Facebook Ads) is useful for reaching your audience quickly and increasing brand awareness more than the organic Social Media solution.
Because space on social media has become much more competitive for brands and businesses of all sizes, you have to turn to paid options to reach many more B2B buyer personas, or you can remarket your audience who has visited the website or Facebook page, with different types of messages.

If you would like to understand how you can apply these techniques to your business to produce qualified business leads, register for the B2B Prospecting Academy, an 8-week intensive experiential learning program to help you generate more leads this quarter.
Latest Posts

Stop Selling and Start Helping. Now, More Than Ever.
November 25, 2020

Tips for Planning Your B2B Digital Marketing Strategy
November 25, 2020

Best Marketing Automation tool for Microsoft Dynamics 365
November 18, 2020

How to plan your B2B Marketing Strategy for 2021?
November 13, 2020

The Pardot VS Hubspot Migration and Switch Guide
November 11, 2020