11 May
The benefits of Pay Per Click Management
By Pay-per-Click, PPC, social media marketing campaign, google ads, B2B PPC Campaign
We now have more ways than ever to communicate with customers and potential clients. Competitiveness has increased as a result. There is a lot of information about your products and services, as well as the competitors, on search results pages and social networking sites. With so many alternatives accessible in digital marketing, staying ahead of the competition and gaining market share over time can be difficult.
As a result, it is critical to make every attempt to rank as high on Google as possible. Furthermore, companies that employ pay-per-click (PPC) campaigns as part of their entire advertising strategy must maximize their ROI on such initiatives. As a result, success depends on having an effective Pay Per Click management strategy.
What is Pay Per Click management?
The term "Pay Per Click management" refers to the process of managing a PPC campaign. Optimizing the PPC strategy to maximize a company's return on investment is the goal of this strategy. Either the company may handle this task independently, or it can work with a PPC agency or specialist. PPC management software may also help businesses keep track of their ad campaigns.
Pay Per Click (PPC) management focuses on creating and optimizing your PPC campaign, regardless of who is involved. PPC campaign management is vital because it allows your organization to make intelligent, data-driven decisions that increase your pay-per-click performance and return on investment.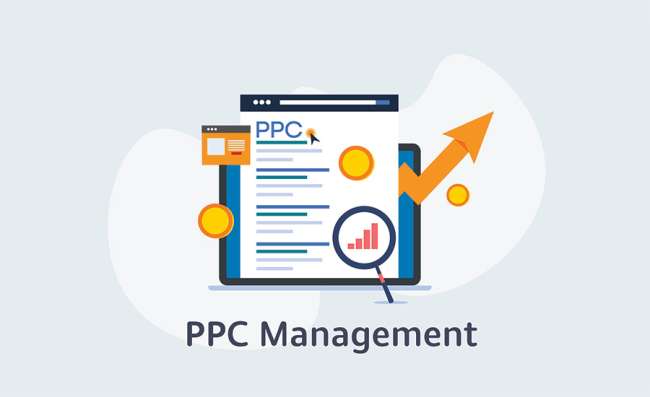 What is included in PPC management?
Knowing what PPC management is, you're ready to learn more about effectively managing PPC advertising campaigns.
Keyword research is an essential part of running a successful PPC campaign. In the case of a PPC campaign on Google, this means selecting the correct keywords for your ad copy. PPC ads appear in search results when specific keywords and phrases are used in the ad copy. Therefore, for your advertising to appear in relevant search results, you must use the appropriate keywords. Consequently, you'll do keyword research for your ad as part of PPC management.

Depending on your business's needs, you may use PPC management to handle numerous advertising channels.
When it comes to managing your PPC campaigns, it doesn't matter if you handle it yourself or work with a PPC agency. You must keep an eye on your competitors' PPC campaigns so that you may exceed them. Competitor analysis entails keeping an eye on bid amounts, keyword selection, and ad copy. Your PPC campaign management will be more successful when you conduct an in-depth competition study. In this way, you may learn from your rivals' strategies to produce more successful PPC campaigns of your own.
Your PPC campaign's landing page is an essential factor. With PPC advertising management, you'll focus on designing landing pages that keep your leads engaged with your content. This page appears when a potential customer clicks on your PPC ad and is sent to your website.
Pay-per-click management also includes monitoring. The best way to know if your PPC campaign is impacted is to follow its progress. Monitoring the performance of a PPC campaign is one of the most important aspects of PPC management. When you watch your PPC campaigns, you can determine whether or not you're getting the ROI you expect from your investment.
PPC management services should include monitoring and testing as part of their scope of work. To make sure you're using the most effective PPC ad possible, you should test various aspects of your ad before launching it. You may try anything from your landing page title to the ad extensions in your ad campaign during testing. You may quickly test your ad campaigns on platforms like Google. Google develops numerous copies of your ad content, and creatives use responsive advertisements to give the optimal version to viewers based on their searches. It aids you in providing a better ad experience for your target audience and increases your PPC return on investment (ROI). PPC management is essential to achieving PPC success. You can produce leads and income for your organization with the correct PPC approach.
Conclusion
As you can see, PPC management is a long-term strategy, not a series of short-term growth hacks or techniques. To run successful Google Ads campaigns, you must use data to inform, optimize, and grow in the long term.
If you need help with your PPC Strategy, need a PPC Marketing services agency, or a Certified Google Ads Consulting company, you can connect with one of our senior PPC consultants to help guide you on how to leverage PPC in your strategy this year and how to optimize your media spend.
Latest Posts
The benefits of Pay Per Click Management
May 11, 2022

Common mistakes in B2B marketing
May 3, 2022

Smart Ways to Plan Your B2B Marketing Budget
April 28, 2022

Top marketing challenges B2Bs have in 2022
April 19, 2022

Great tips on setting goals for your B2B growth
April 12, 2022

Best Marketing Strategy CMOs Use In 2022
April 5, 2022