7 Sep
YouTube Ads For B2B Business: Benefits And Practices
By B2B marketing campaigns, PPC, B2B PPC Campaign, Youtube Ads
YouTube's influential global audience is Google's second most popular search engine. With the proper ad targeting, businesses may reach practically any audience they'd like.
Regarding business-to-business marketing, advertisements on YouTube have one major perk: they can target a determined demographic between the research phase and the final purchase decision. Business-to-business (B2B) YouTube advertising can be effective if you know how to generate and reach your target audience. If a user has recently performed a keyword search on any Google property, you can target them using the standard display network. However, YouTube is most likely to have this function in use.
Account managers on Youtube can use AdWords to track metrics including CTR, views (complete and partial), channel subscriptions, CTA CTR, content sharing, and user sentiment towards other branded content. Additionally, ads that play alongside videos on YouTube can be used as a proxy for tracking KPIs. Finally, advertisers can promote their products and services on YouTube through banner advertising, both animated and non-animated.
According to studies, Google ranks video content highly in search results, and qualified leads for video marketers increase by 66% annually. Therefore, it stands to reason that a B2B company's online marketing plan should incorporate both video marketing and YouTube to succeed.
In What Ways Can YouTube Users Be Categorized?
YouTube's ad targeting features let you reach consumers when they consider purchasing. For example, an organization may take a few different routes when using Google Ads to promote movie viewing. YouTube offers advertisers a unique opportunity to target specific user groups based on age, gender, and viewing habits.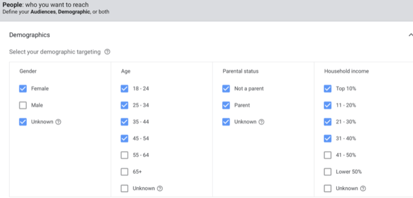 In what follows, we can analyze in detail which audience we can target when we talk about Youtube Ads.
Similar Audiences:

Introduce your YouTube advertising campaign to potential customers who look and act just like the folks on your retargeting list.

In-Market Audiences:

Get your message in front of people ready to buy right now, even those who are also considering your competitors' products and services.

Custom Affinity:

Get your message in front of people ready to buy right now, even those who are also considering your competitors' products and services.
How to Get Your YouTube Ads Seen by the Right People
Paid sponsorships are best for promoting a brand or business through YouTube videos. Some YouTube advertisers run extended campaigns to reach new audiences, while others employ shorter "flash" commercials to drive home the brand's message.
In addition to the videos a user has chosen to watch, they will also be exposed to display adverts that are not videos. Banner advertisements on the side of your screen or the top right corner of a YouTube video are examples of the standard display ads you might see on the Google Display Network.
Overlays are used to place still images over the bottom of a video. Advertisements like these may also appear in the video's search results and on YouTube's home page, increasing their exposure.
Immediately to the right of the introductory video will be a display ad with an image, some text, and a button that will take the viewer directly to your website. In-Video As viewers watch videos uploaded to a YouTube channel that earns money from advertisements. Overlays will appear.
To the right of the featured video, you'll have a display ad with an image, some text, and a button that will lead the visitor to your website. The bottom 20% of YouTube players are devoted to In-Video Overlays, banners with a see-through background. Overlays will appear when users play videos from a YouTube channel that receives ad revenue.
Use These Five Strategies To Get More People To See Your YouTube Ads

1. More precisely targeted with TrueView
According to studies, the vast majority of viewers (76%) consistently tune out advertising. TrueView ads only accrue costs if the viewer gives the advertisement at least 30 seconds of attention, takes it in its entirety, or clicks through to a related website. Since TrueView advertising is so safe, they are perfect for targeting a specific audience. In addition, there is room for flexibility for experimentation in terms of ad layout. There will be no time limitations on the kind of videos you can add to your advertisement (testimonials, how-to instructions, or product demos).
2. Competition Channel
Businesses can reach a new audience by publishing product ads on YouTube channels that their rivals watch. Promoting your channel by placing adverts on videos made by competitors is a great way to gain exposure to their viewership. To achieve your goals on YouTube, you must first compile a focused list of channels to promote.
Remember that before you target competitor channels, you must ensure that they have monetized their material. For example, competing YouTube channels would have had to implement similar strategies to monetize their content. To incorporate adverts into their content, this is required.
3. Keyword-Based Marketing For Specific Audiences
Another method of refining your emphasis on a particular group of people is using their search terms as your target. If you utilize this technique, you can feel confident that your content won't surface on the screens of unsuspecting viewers. Ads can also be placed on videos knowingly by businesses using search-based targeting. A user's whole YouTube search history is accessible using this means.
4. Concentrating On A Specific Group Of People Depending On Their Demographic And Interests
The method of demographic targeting is transferable to various forms of targeting. In reality, many advertisers' campaigns begin with a focus on specific demographic groups. However, to effectively implement your targeted strategies, you must have a firm grasp of your customer interaction.
What truly interests your customers can be gleaned from their demographics. It's crucial to know who you're talking to. Interest-based targeting, however, can reach a wider audience than demographic targeting.
5. Audience-Based Retargeting In Google Ads
By connecting businesses and customers, Google's Customer Match service improves efficiency. In this method, you put your clients' feedback to good use. As soon as you have this data, you can utilize Customer Match to target your newly-identified, specific consumers and other potential customers who share their interests. Customers that match the profile of your ideal YouTube viewer can help spread the word about your business.
So, How Can You Include YouTube Into Your B2B Marketing Strategy To Increase Site Visitors And Potential Customers?
To begin, gather your customer's contact information. Next, put this consumer insight to use by developing or adjusting an advertising strategy. When the selected users log in to their Google accounts, your adverts appear. Customers will still be exposed to your video ads using YouTube, Gmail, or performing a conventional web search.
The correct data segments and targeting signals may make YouTube ads much more relevant to the right people, which in turn helps businesses meet their goals.
Our specialists at NNC Services can help you figure out the right solution for you. Contact us!
Latest Posts

PPC Click Fraud: How to Stop It and Protect Your Ads
December 2, 2022

How To Succeed With Podcasting
November 29, 2022

Are PPC Ads Still Relevant In 2022?
November 24, 2022

What's Next in Digital Marketing?
November 3, 2022

Podcast SEO: How To Optimize A Podcast
November 2, 2022

PPC Campaigns: 5 Mistakes You Should Avoid
October 26, 2022