28 Oct
How to optimize landing pages for lead generation
By Landing Page, Lead Generation
Landing pages are an indispensable part of your digital marketing strategy and a powerful lead generation tool for your business. Effectively optimized landing pages will help you capture relevant information from your visitors in exchange for the valuable content you have to offer. But what are the challenges that can keep your landing page from converting visitors into qualified leads?
Not providing value through an effective and eye-grabbing copy

Having too many distractions and lacking a clear call to action

Undefined strategy and lack of performance
In this article we will uncover the 3 essential areas you need to take when working on your landing pages for your lead generation campaigns:
Writing clear, engaging copy that converts

Creating a positive user experience

Building a results-driven acquisition strategy
1. Copywriting for lead generation success
Memorable headlines make a great first impression
In fact, great headlines can drive up to 500% more traffic. When it comes to the ideal length, headlines of six words are considered highly effective. However, when necessary, you will create longer headlines that will enable you to successfully get your point across. After all, the headline is meant to provide visitors with relevant information about the content they are about to receive. Practice makes perfect, therefore, allow yourself to experiment and try new formulas when copywriting headlines.
Excel at the CTA game
Headlines and call-to-action statements need to work together for better results when optimizing a landing page for conversion. The role of a call to action phrase is to enable meaningful relationships between your business and your website visitors, and fostering long-lasting and valuable relationships is part of your inbound marketing strategy.
Moreover, the main goal of a landing page is to have your visitors provide their information in return for the value you provide through your content (e.g., demos, e-books, guides). In this regard, call-to-action statements and buttons will enable you to guide your visitor through the page and help them take the desired action.
Use social proof to your advantage
If you have testimonials, client stories, or reviews, add them to your landing pages in order to provide electronic word-of-mouth for your lead generation campaign. In the age of "influencer marketing," what your already-existing customers believe about your products or services will inspire visitors to take the desired action and increase your landing page conversion rates.
How does an effective landing page look like in terms of copy? Consider the following example from Muck Rack: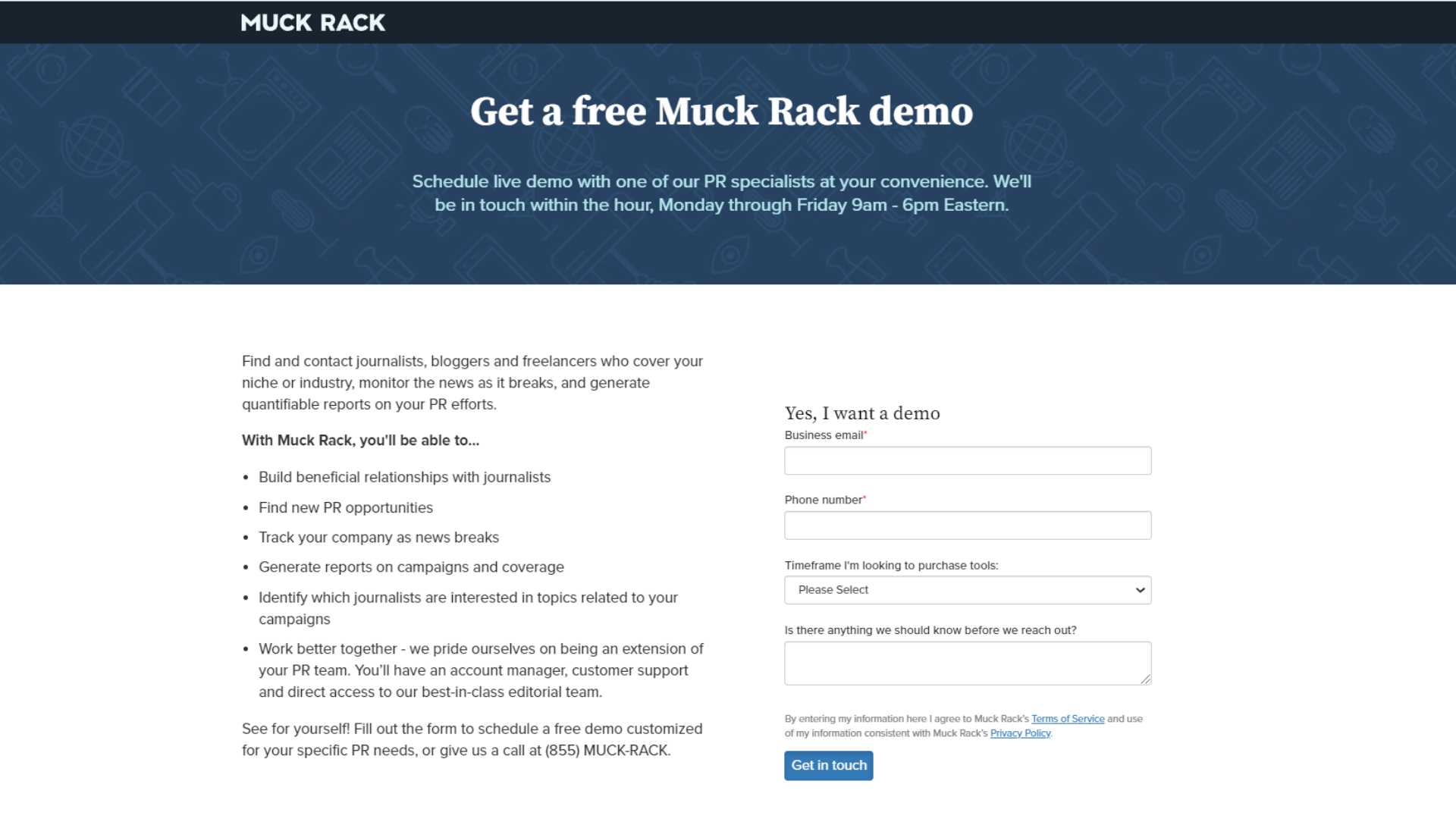 As you can see, the action-oriented language used on their landing page, including the headline "Get a free Muck Rack demo," encourages visitors to grab the offer without hesitation, highlighting the benefits and value they provide.
2. Better UX: visually appealing design and great functionality
Having a clean but attention-grabbing design will help you create landing pages that convert. For instance, the landing page for our free e-book 30 Greatest Lead Gen Tricks, Tips & Ideas uses a simple but effective design that aims to convey the right information at the right time in order to successfully generate more leads.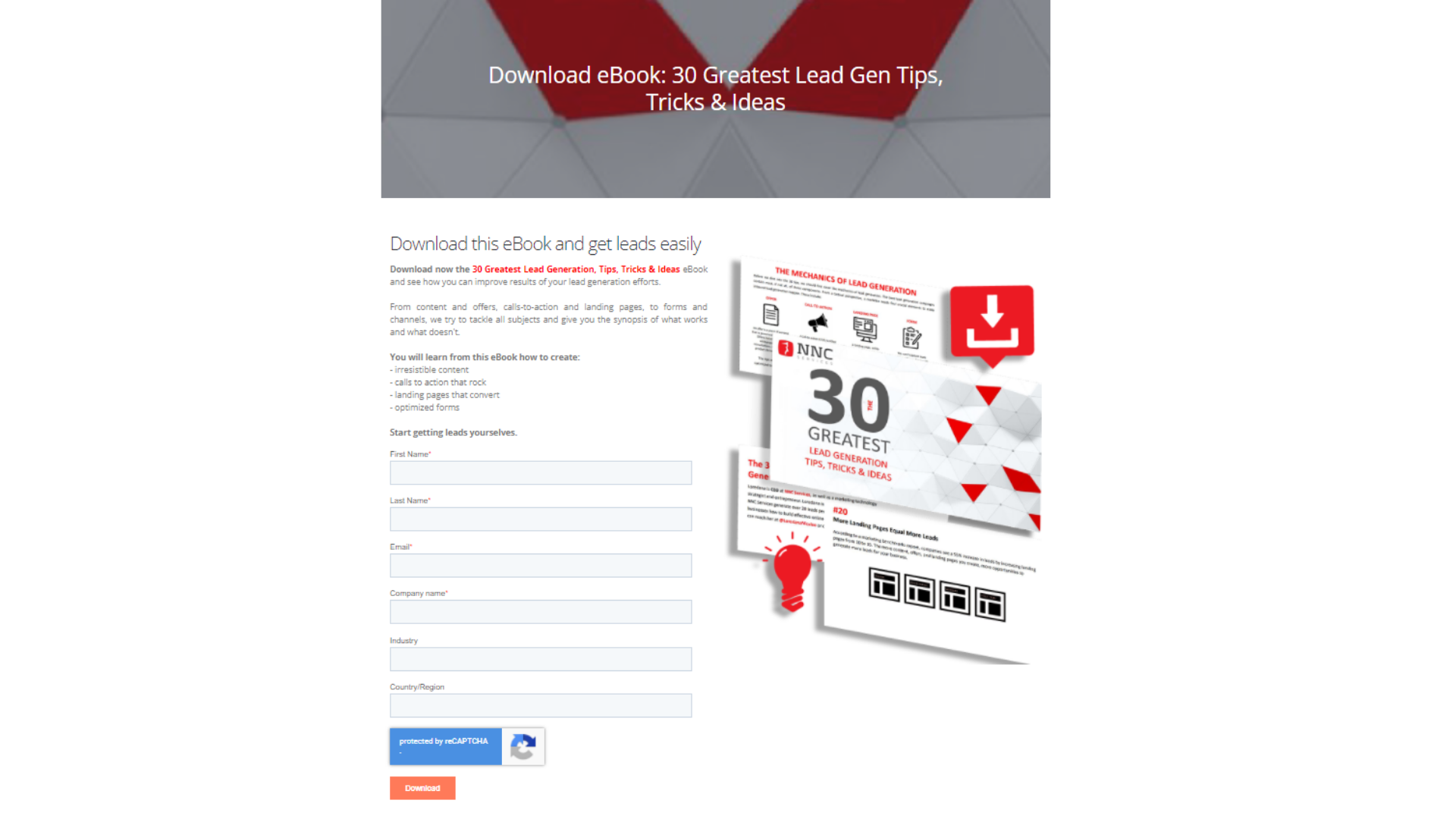 How can you do the same for your landing pages? Here are our suggestions:
Remove distractions and reduce friction
To achieve your desired results from your lead generation campaign, focus on creating a positive experience for your visitors by grouping visual elements, clearly defining the relationships between them, and creating a well-organized visual hierarchy. This means removing unnecessary distractions and sticking to the most essential elements. A well-defined structure will enable you to limit navigation on your landing page while guiding visitors using visual cues. This includes your headline, any images you might be using, a thought-out form to gather relevant information, your call to action, and testimonials or reviews when applicable.
Consider device resolution and overall performance
The most effective way to ensure a consistent experience across multiple devices is to take advantage of responsive web design, which implies the fact that the layout of your landing page will change according to your visitor's screen resolution.
Furthermore, when designing your landing page take into consideration performance, more specifically page load time. In simple terms, page load time refers to the average amount of time it takes for a web page to become interactive. If a lead clicks on your link and has to wait for over 5 seconds for the landing page to load, this could make them lose interest and leave without proceeding with the desired action. The ideal page loading speed is under 3 seconds, and you can optimize this by compressing images, hosting videos externally, or reducing the number of redirects. With the right web development and design, you can avoid this situation while ensuring the best possible experience for your visitors.
3. Creating a results-driven landing-page acquisition strategy
Provide visitors with a personalized experience
As part of the landing page best practices, it is necessary to discuss the acquisition strategy. We know for sure that the more landing pages a company has, the higher its conversion rates tend to be. Successful landing page strategies include several landing pages, each optimized for a particular segment of your audience to ensure greater results. Depending on their stage in the buyer journey, you will need to create relevant content and offers for each phase. You can create a results-driven landing-page strategy using Google Ads and HubSpot, tools that will enable you to follow along with your visitors on their journey and provide the right people with the right offer at the right time.
A/B testing - same conversion goal, different results
Data might not be able to tell you everything, but it can show you what works and what doesn't. You can adjust most aspects as you proceed with your lead generation campaigns. This proves how testing, tracking, monitoring, and optimizing are crucial for lead generation and conversion. Therefore, the A/B testing research methodology enables you to understand what is the turning point for visitors when they leave your landing page without taking the desired action.
If you would like to receive assistance with your landing page optimization for lead generation, get in touch with one of our specialists!
Latest Posts

How To Generate Large Sales Through ABM (Account Based Marketing)
November 11, 2021

Why ClickDimensions is a great marketing automation tool for Microsoft Dynamics 365
November 8, 2021

Best Practices for Google Ads optimisation in B2B eCommerce
November 1, 2021

How to optimize landing pages for lead generation
October 28, 2021

Selecting a Marketing Automation Solution for Microsoft Dynamics 365
October 19, 2021

How to use Google Ads for B2B lead generation
October 15, 2021