15 Nov
Cracking the Employer Value Proposition code [Part I]
By Employer Branding, employee value proposition, employer value proposition, positive employer brand
How many times have you heard your HR responsible say "We couldn't find anyone that fits the profile of the job!", "We need to make a better offer to our interviewers." or "2 more colleagues have announced that they are leaving!".
Other than heavy panic and jelly legs at the news of another employee leaving and hardly finding anyone in its place that would take the job right away, you should know that these occurrences are normal. From our insights about business challenges we notice that recruiting and retaining talent are top challenges in many organisations.
The infamous "war for talent" is still going on. Companies are fighting over skillful people and try to differentiate themselves in the market as an employer of choice. At the core of this positioning you will find the Employer Value Proposition and it is the selling-point from an HR perspective. It answers to potential candidates questions such as:
"What's in it for me?"
"What more can you offer?"
To these questions the Employer Value Proposition answers with the set of tangible and intangible (culture & values) rewards that employees receive in exchange for their skills, experience and capabilities that they bring in the company.
Employer Value Proposition (or EVP in short) has the role of enforcing a positive employer brand and it is at the core of your employer brand strategy that seeks to give to potential candidates the right reasons to join your company.
What's more, 80% of HR leaders said in a recent study that employer brand has a significant impact on their ability to attract talent.
How to identify your Employer Value Proposition
The Employer Value Proposition needs to accurately reflect the environment of the company and its long-term business goals as well.
Also, companies should find those attributes that genuinely spark curiosity and excitement for potential candidates when looking to get hired and develop their careers. An Employer Value Proposition should inspire employees, make them look forward to the future and encourage progress inside the organisation.
In order to identify your Employer Value Proposition, we crafted a list of 5 steps with actionable tips & tricks. Your source of information used to design your EVP comes from 3 big sources: labor market (current, past and even potential employees), competitors and your organisation's strategy.
Evaluate your current hiring offer
In order to create and manage your Employer Value Proposition you need to measure and assess your current offer. A study by Weber Shandwick, in partnership with KRC Research, found that only 19% of the nearly 2,000 global employees they surveyed feel strongly that the work experience their employer promotes publicly is matched by reality.
This is quite a low score. Therefore, in order to not generate disappointments and frustrations in the future you need to start aligning your internal reality with what you put out in the market.
Into this offer you need to evaluate basically the components of EVP. These differ in literature and there are many models that you can check out. We will give you only one that we found quite exhaustive: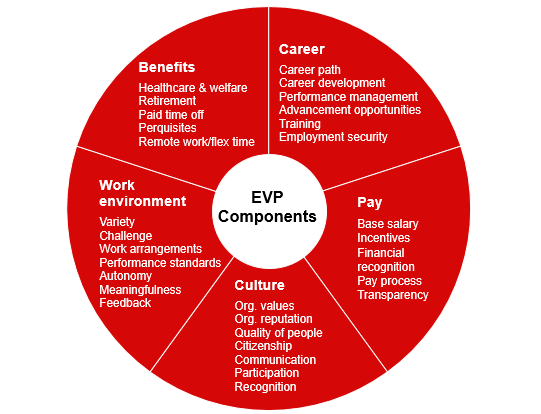 In this evaluation it is very important the cultural aspect (vision, values, behaviors in the workplace), because many potential employees take this aspect seriously into account.
This makes sense, because who doesn't want to feel like they belong and fit very well into their working environment?
#1 Tip & trick: Analyze your competitors websites and see what benefits they push forward and try to guess logically what candidate profiles they target. You can learn more about your potential hiring market, especially from the top competitors in your field.
After evaluating all these factors, the next step is to have structured discussions with your present and past employees and gain insights from specific sources.
Until next time…
Until next week when we publish the second part of how to identify the Employer Value Proposition, you can start analyzing and drawing your first conclusions about what your company offers in this moment. If you need a team of experts to help you audit your Employer Value Proposition and build your Employer Branding Strategy, don't hesitate to get in touch with us.