29 Jul
Build your employer brand by keeping your employees happy
By Employer Branding, Marketing, employer of choice
Any company that wants to position itself as an employer of choice on the market should be concerned with the well-being of their employees and ensure their satisfaction with the current job position. Taking this into account, we wanted to see what is the secret to keeping the Romanian employees happy so we put on the investigator's hat and started our research. Let's explore together our findings.
What makes Romanian employees leave their jobs?
Although Romania is one of the fastest-growing economies in the European Union, it is currently facing a labor crisis and a problem of employee retention. Our 2018 IT&C market study shows what are the most important factors impacting the employees' decision to change their job.
88.1% - b

etter financial offer

82% - professional development opportunities

52.3% - your future co-workers' technical skills

44.9% - extra benefits

43.9% - current and future client portfolio of the future employer

36.5% - job responsibilities

33.8% - employer's reputation

32.2% - better

workplace stability
What makes Romanian employees happy with their current job?
According to the iSense Solutions study created for the 2019 Romanian Employer Branding Conference, 55% of the Romanian employees working in the urban areas are satisfied with their current job and are actively pursuing a professional career in their company. Let's see the main reasons that keeps them happy in the workplace:
60% - receiving their salary on time

59% - good team relationship

52% - getting certifications in their field of focus

49% - interesting job

44% - feeling that their work is useful

43% - feeling they are respected in the workplace

42% - good relationship with the higher management

36% - competent co-workers
What do Romanian employees expect from their employers?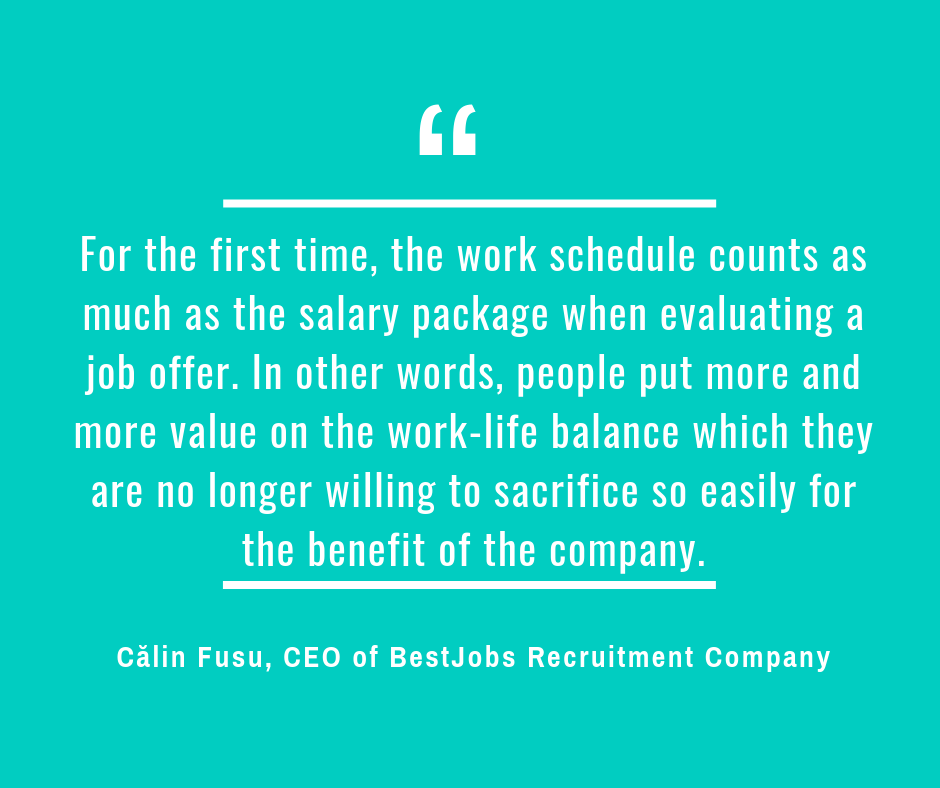 In addition to the discoveries of our previous article on employer branding, we would like to add the findings on employees' expectations as shown by a BestJobs survey, one of the largest recruitment companies in Romania:
86%

- salary and extra-wage benefits along with work schedule

68% - flexibility with working hours and professional development within the company

52% - opportunity to work from home

44% - several days of rest leave

39.3% - the company's field of activity and proximity of the office to home

32% - development prospects within the company

14.3% - the employer's reputation and position in the market

7.7% - opinions i

n social media about the employer
What are the most desirable benefits from the Romanian urban employers?
According to the iSense Solutions study, these are the top 5 most wanted benefits:
50% - receivi

ng the 13th salary

49% - insurance or medical subscription

47% - the first holiday

46% - holiday bonus

42% - gift

vouchers
How can you stop your employees from leaving your company?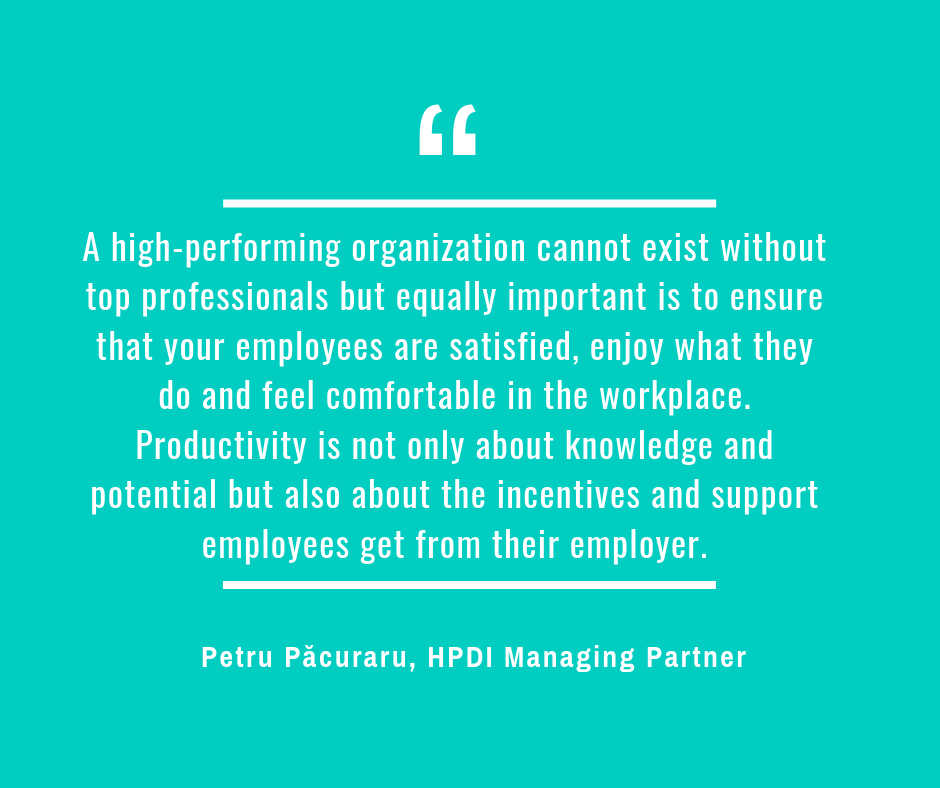 The HR managers participating in the HPDI study revealed the most successful incentives on the market that can increase employee retention.
66% - a well-established career plan

59% - work-based education programs in the form of different courses or trainings

47% - coaching sessions

45% - flexible program

23% - higher wages
We know how hard it is to keep people motivated and engaged to a company, especially in a competitive industry like IT&C. If you struggle with your employer branding inside your company, we can work together to create a personalized strategy to address your specific business needs. Our main objective will be to build trust between you and your employees because we know from experience that by building an organizational culture and focusing on your employees from their first day in the company will make them choose to stay with you for a long time.
Final thoughts
When you know what makes your employees happy, what are their expectations and desires from a potential employer and a prospective new job, you can create a more efficient employer branding strategy. Get in touch with us today and our dedicated marketing experts will be excited to help your company position as a Romanian Employer of Choice.