9 Jul
B2B Marketing Goals Setup & SMART Goals Template
By b2b business objectives, online marketing, b2b strategy, b2b tactics, company marketing
The past year has demonstrated the importance of having measurable goals in a B2B setting. That means you can easily modify them. The business environment is constantly changing, with each change being faster and more drastic than the last, and your plans and strategies must adapt accordingly.
There are always different ways to achieve your B2B goals, but whatever they are, it will always be easier to get there once you know what they are.
A practical approach is the best approach. To find some clear steps on setting your marketing goals for the coming year, we recommend using our tool, an excel spreadsheet template.
In this article you will learn:
How to set up your B2B goals
Creating a SMART goal
Info about our Reverse Funnel Analysis Tool
Everything about OKRs
How to map your activities
The usefulness of dashboards
Setting up your B2B goals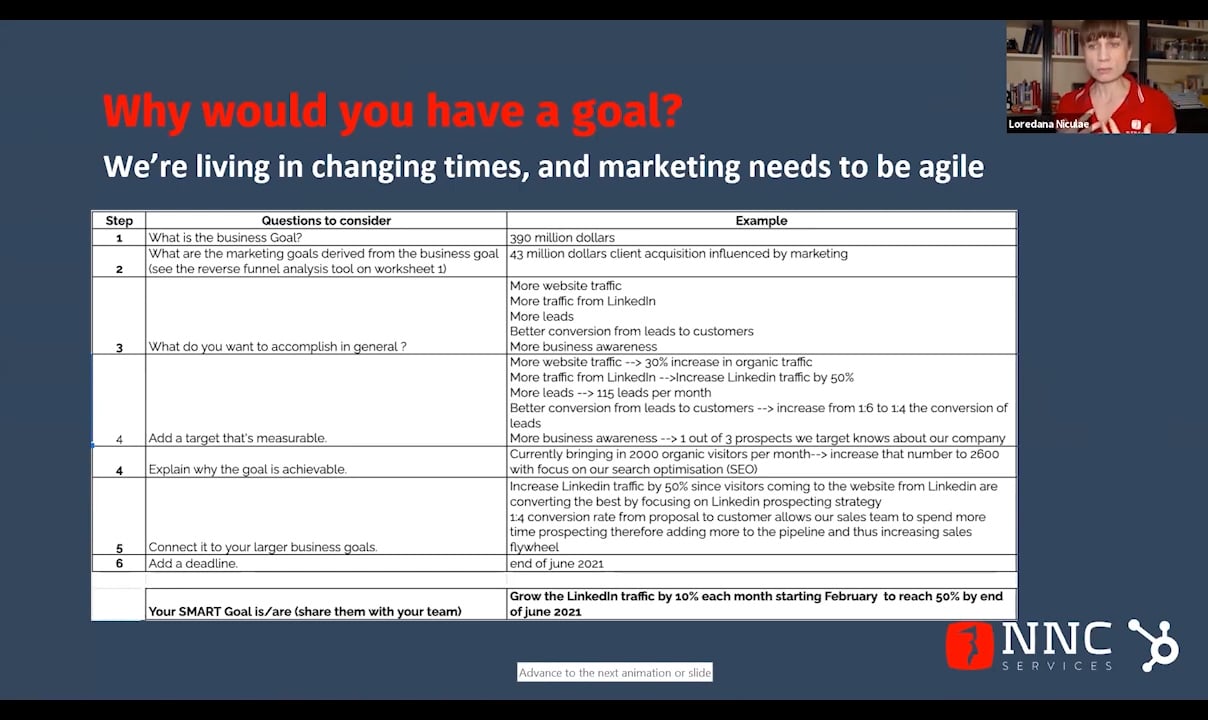 So, how do you go from a goal to actual KPIs you can track? What are some examples of funnel conversion rates at various stages? All of this is linked to this tool! One thing to consider is what the overall business goal is. Remember that the B2B marketing goals must serve the business goals. Do you want more visitors to your website? Do you want to generate more leads? Make that target measurable!

Assume you want to increase your target to 390 million USD. Marketing must contribute to some of this. Assume we still need to generate 43 million USD from marketing by the end of the year. Set your sub-goals after that. For example, how does increasing LinkedIn traffic and acquiring more LinkedIn leads factor into your 43 million USD in marketing revenue? Consider all of the processes in detail, and then consider the deadline.
Formulating your SMART goal
The next step would be to create a SMART goal. So, let's say we want to increase our LinkedIn traffic by 10% starting in February. So, by June, we should have 50 percent. Always share your goals with your team; they are useless if not shared.
The Reverse Funnel Analysis Tool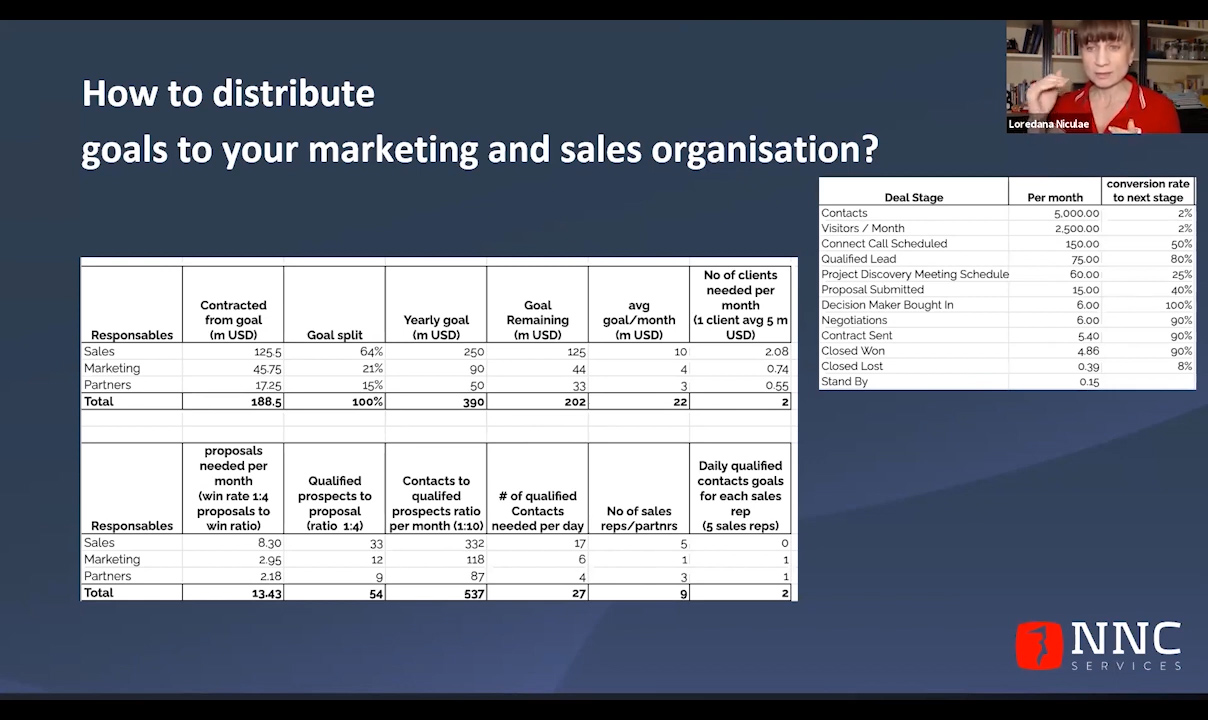 Now that you've established a SMART goal, how do you translate it to an individual level? We've created a tool called a reverse funnel analysis tool, which starts with your overall business goal (in this case, achieving our 390 million USD goal). Following that, you gather your salespeople, marketing personnel, and channel partners and assign them daily goals.
How do you go about doing that? Initially, you examine your yearly goal, how much of it you have achieved, and how you want to divide the goal among the various functions in your business that are responsible for achieving that goal. Then, in terms of client or business acquisition, you divide that goal by month.

Assume you want $10 million USD per month. What does that imply in terms of new customers per month? In our example, let's say it's $8.3 per month. How many qualified prospects do we require now? If we have a one-to-four ratio, we will require 43 qualified leads. How many contacts do we need to have 43 qualified leads? And the list goes on and on.
What are OKRs?
Another critical aspect of goal setting is determining how to ensure that those goals are met. So, not only do you need daily and individual goals, but you also need to ensure that those goals are met.

OKRs, which are a really interesting way of combining your KPIs with your objectives, come into play here. In practice, this means that if you want to increase revenue by 100 million USD, your first OKR must be 100 million USD, which you must record. The second key result would be, for example, a 40% increase in the number of leads. To get to that 100 million, your first key result may be to hire people who can drive that revenue (from an operational perspective)
Mapping your activities
You should try to keep track of all of your activities, such as buyer journeys so that you can optimize the numbers and statistics. You can also investigate marketing automation for lead scoring to avoid wasting time on leads from prospects who are not a good fit for you.
Should you get a dashboard?
If you have a team of ten or more people, tracking their daily activities and compiling them into a spreadsheet can be time-consuming, which is where dashboards come in. Some real-time dashboards make it simple to see how far you are from completing your goal. There are free dashboards, such as HubSpot's CRM, as well as paid great tools.
Final thoughts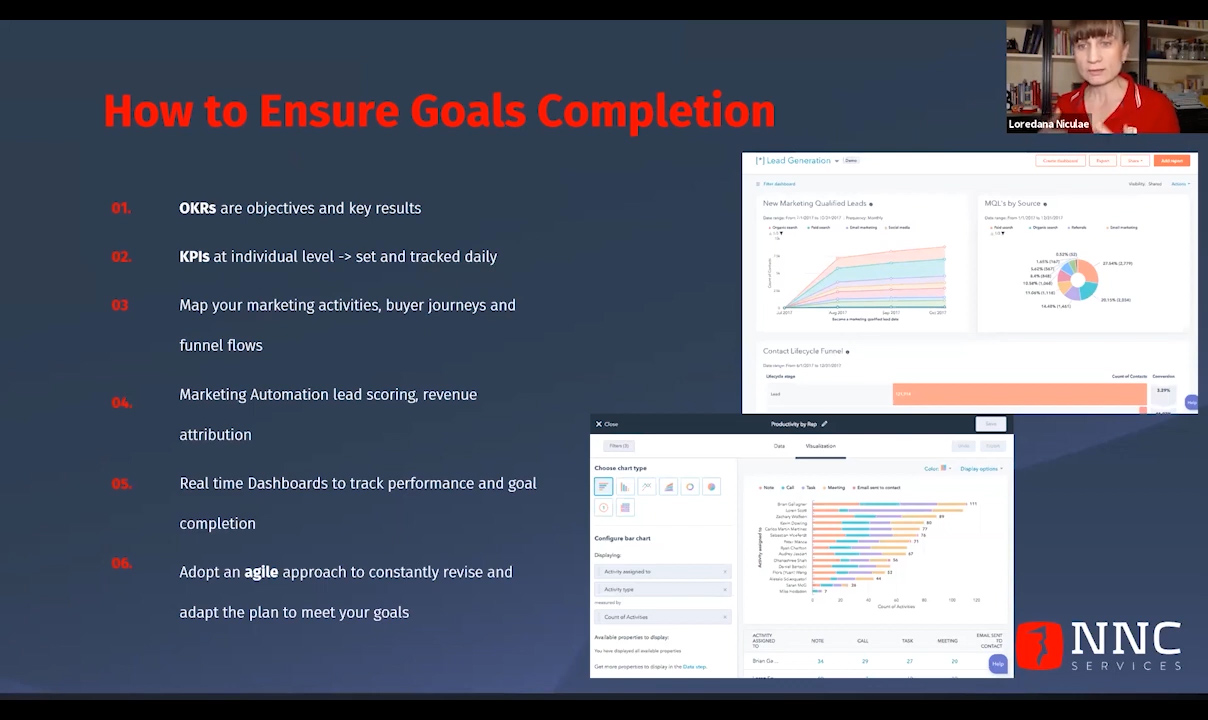 If there is one thing you should never forget, it is to always involve your team in both goal setting and individual KPIs.
Always keep track of your daily performance.
You will never achieve your goals for the coming year if you do not track your daily performance.
If you want to learn more about setting goals, check out our online video on the subject.
Latest Posts

How does Remarketing work?
September 9, 2021

How to use trigger events to create B2B lead generation
September 6, 2021

Marketing Automation Statistics and Facts in 2021
August 19, 2021

How Google Ads campaigns can help B2B tech companies
August 13, 2021

B2B Digital Training
August 11, 2021