7 Feb
Reasons Marketers Need to Invest in Visual Content
By Facebook, Pinterest, brand engagement, Social media marketing, visual content
The rapid spreading of mobile devices and the photo editing tools that are easier and easier to use allowed us all to become publishers. Marketers in all industries noticed how much brand engagement they receive if they communicate with images rather than words. Visual content is on the rise since 2012 but in 2014 it will dominate the entire marketing field. Here are some facts that make us believe visual content will rock the scene in 2014:
Under these circumstances it is obvious that visual content has many benefits for a company, but let's see some examples:
1. Increased brand awareness. Visual content lets viewers better understand a brand identity. Facebook offers companies the opportunity to visually present their corporate history. For instance, Microsoft has a comprehensive Facebook timeline that presents all the important events since 1975.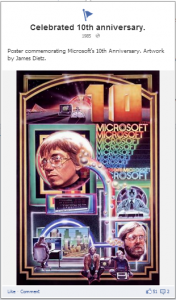 2. Increased brand engagement. Infographics, quality photos and videos stimulate conversations and companies can use them to promote brand awareness, product launches, or events. General Electric, for example, uses infographics, photos, and videos on their social networks and blogs. These brought them over 20,500 followers on Pinterest, 1 million Facebook fans, and over 30,800 YouTube subscribers.
3. Increased sharing on social networks. Visual content is highly shareable in comparison to copy content and has a higher click through rate on social media. A great option to spread important information is through infographics, which are widely shared on Facebook and Pinterest. Here's an exemple from IBM:

4. SEO improvements. Lots of quality links bring good SEO. When companies produce shareable content they get backlinks for SEO. More engagement and more links with a brand's content increase its website traffic.
5. Sales growth. Product videos help generate purchases by bringing customers closer to the items. According to Invodo's Video Statistics, 52% of consumers say that watching product videos makes them more confident in online purchase decisions. Also, according to a PriceGrabber survey 21% of people with Pinterest accounts have purchased an item after seeing it on Pinterest.
In 2014, visual content – quality photos, videos and infographics – will position businesses as trusted brands. How are you integrating visual content into your online marketing strategy?
Latest Posts

B2B Sales Prospecting with digital lead generation
July 30, 2020