8 Aug
Generate More Leads with HubSpot Lead Flows
By Lead Generation, Lead Generation Trends, marketing automation, Uncategorized
About Lead Generation
Lead Generation is the process of raising the interest in a product or service, with the purpose of managing the sales pipeline and increasing the revenue more effectively.
In the last few years, marketers have been going through massive changes regarding the process of selling and reaching new customers. Instead of spending a large amount of money on advertising and general email campaigns, marketing specialists started using behavioral targeting, which enabled them to build continuous relationships with the buyers.
Digital Marketing Tools
The Lead Generation process requires a wide range of levers like email marketing, content marketing, cold outreach, marketing automation, chatbots, social media campaigns and many others. Yet, our attention today goes on a specific tool, called Lead Flows by HubSpot, which is famous for speeding up the lead conversion rate and bringing new subscribers very fast - up to 1,375% More Subscribers, as AWeber describe in this blog post.
HubSpot Lead Flows
Lead Flows are pop-up forms that encourage visitors to subscribe to your news, services, or to your organization's ebooks or webinars. These pop-up forms are considered inbound if they are created in a non-intrusive manner. Even if there may be some reservations regarding them, they are efficient and not necessarily interruptive or annoying. Let's see the types of Lead Flows and how you can implement them within HubSpot.
Types of Lead Flows
Before creating a high converting pop-up that takes several minutes, you must choose the type of lead flow. There are 3 types of lead flows:
1. Slide-in boxes
Slide-in boxes appear at the bottom of your website, sliding from left to right, or right to left, depending on your preferences. They suit for blog promotion and content offers. These are Slide-in boxes in HubSpot: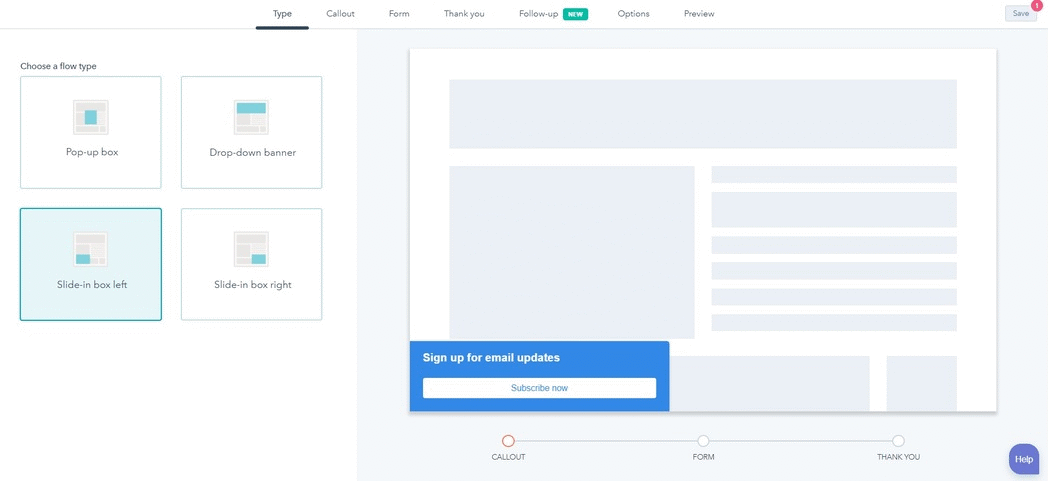 2. Drop-down banners
Drop-down banners are displayed as a thin bar at the top of your website. They are helpful, non-interruptive and appear as an additional information pop-up. Drop-down banners in HubSpot: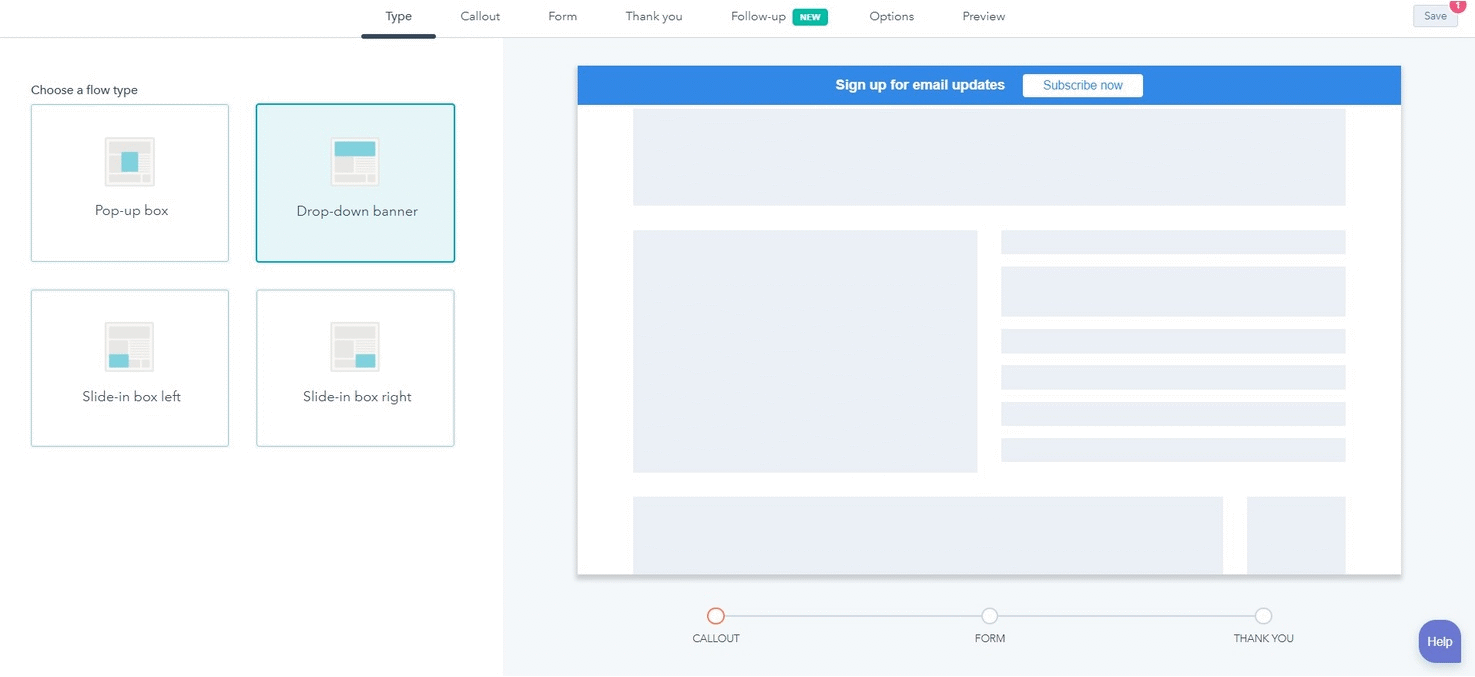 3. Pop-up boxes
Pop-up boxes are classic pop-up windows and they are considered to be the most efficient type of lead flow. They highlight your intention, promote a content offer, social media channels and grow your email list.
Steps and Implementation
After choosing the type of pop-up that bests suits your intentions, you must follow the next steps:
1. Callout
The Callout section requires you to put your creativity at work. Choose an Image, Callout text, Callout body, and colors. For example: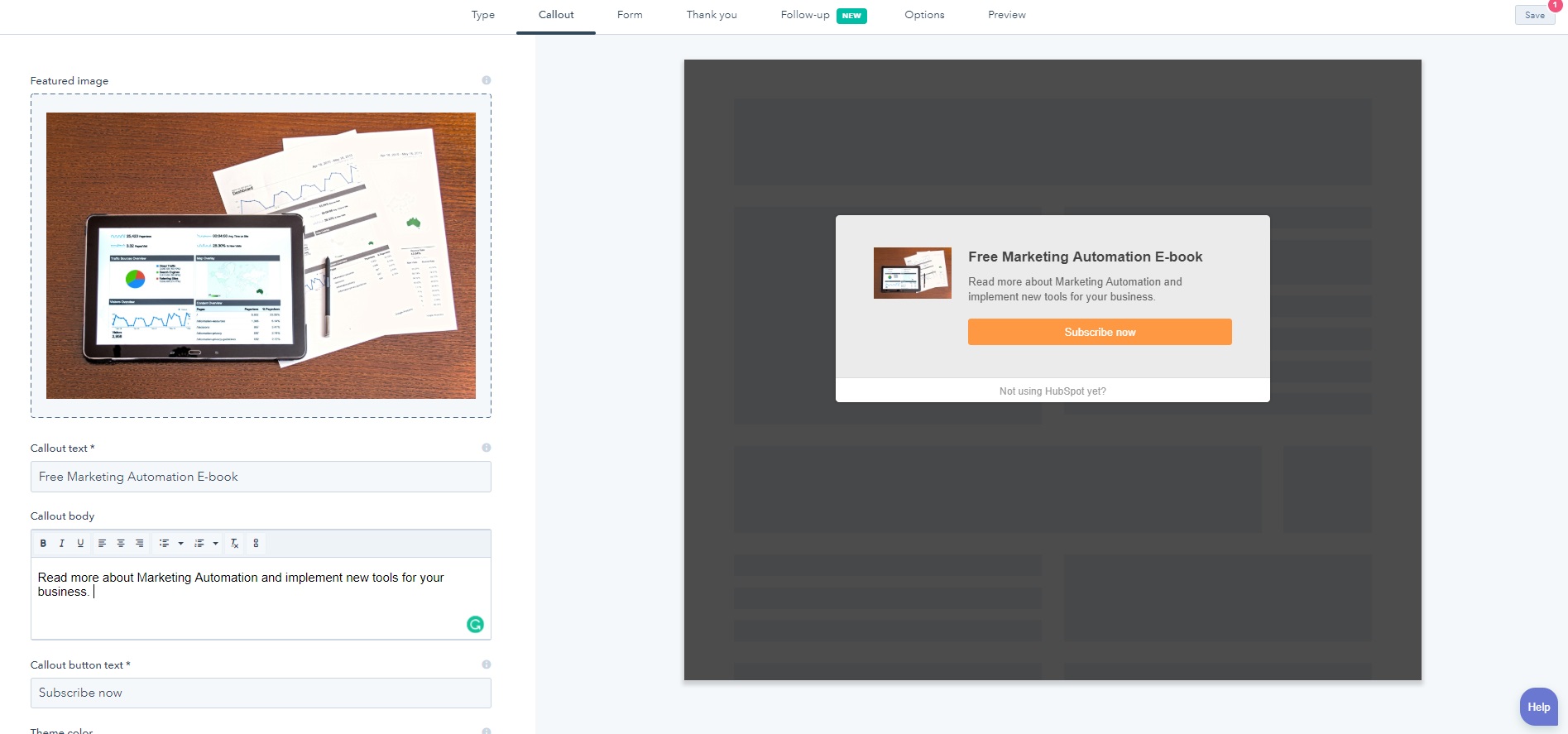 2. Form
The next step is the Form section where you will add questions to your Lead Flow. Make sure you require a minimum of information from your future subscriber: name and email address.
3. Thank you message
Your Lead Flow is almost ready, and you will need only to include a thank you message.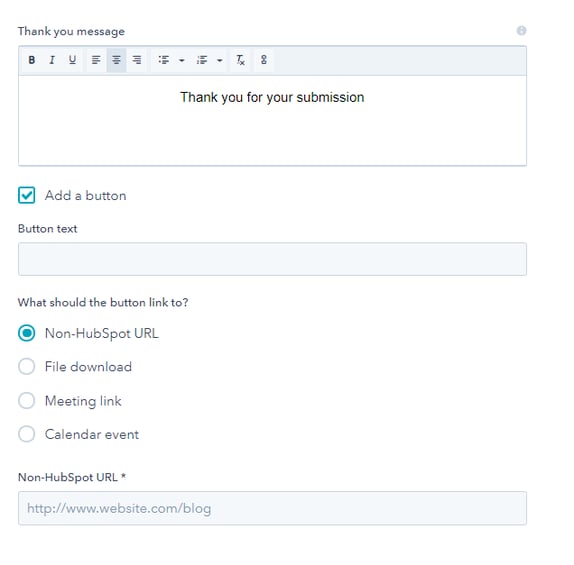 4. Preview
HubSpot offers previews of your pop-up message for Desktop, Tablet, and Mobile.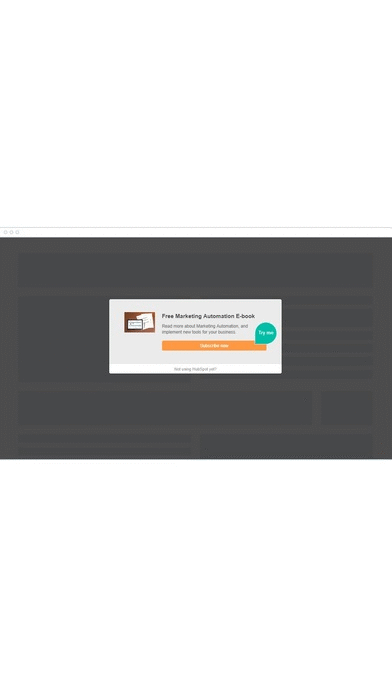 5. Follow-up emails
Hubspot brings a new feature called Follow-up which helps you create a series of emails, in order to engage with your gathered leads. This is a good moment to create a conversation and a communication strategy so you convert more leads into customers.
6. Options
HubSpot offers display options for your newly created Lead Flow. You can include the display URL for pages hosted on HubSpot or if you have a tracking code installed on your website, or you could experiment with Flow Triggers.
Flow Triggers represent the moment when your visitor will see the pop-up window.
On 50% Page Scroll - lead flow appears when the visitor scrolls down 50% of the webpage

After Elapsed Time - lead flow triggers after a number of seconds you select

On Exit Intent - lead flow triggers when the visitor exits the window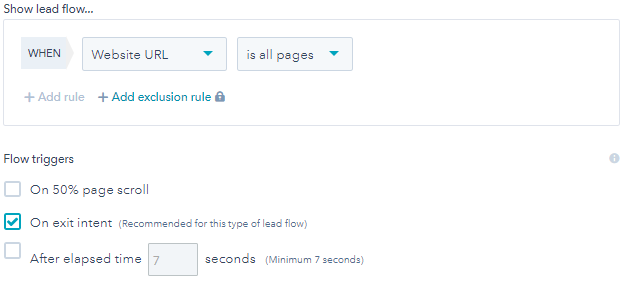 Final Thoughts
Lead Flows are an excellent tool for generating more blog subscribers, offering ebooks, subscribing for webinars, and filling in the lists with email addresses. There is a difference between Lead Flows and Forms, also a HubSpot tool. Forms are more complex and gather information on a landing page, whilst Lead Flows are pop-up forms, built around a Call-to-Action. We recommend businesses to experiment with both lead flows and forms, notice the fluctuations in conversions and see what messages, images, and call-to-actions work best. Meanwhile stay connected to our blog, for more marketing automation and lead generation tips & tricks, and don't hesitate to contact us if you need more details.
Latest Posts

A Guide to critical KPIs for CMOs
May 29, 2023

Growth Potential: How to Hire a Fractional AI CMO ?
May 19, 2023