23 Jul
3 Important Lessons that Don Draper Should Not Have Forgotten
By blog
Now that we already discussed what key marketing lessons the TV show Game of Thrones can teach us, we would like to discuss in the article below about another great TV cult show and the lessons that can be learnt from it by any marketer: Mad Men.
Set in the 1960's of the New York advertising scene, it follows the professional and personal life of Don Draper, a creative director at one of top NY's advertising agencies. Don is a twisted character, who is battling past demons while trying to keep it all together. The latest season has depicted some particular low points for the character, and the experiences he went through can make great lessons for any kind of agency.
Mad Men has always been a daring and innovative TV show, and that is reflected on its promotion means as well. The character of Don Draper is crucial to the series. The most known channel for promotion is created by ban: the Tumblr #draping blog - http://draping.tumblr.com/ - where fans post pictures of themselves imitating Don Draper. This is another example of user generated content regarding his character: http://whatwoulddondraperdo.tumblr.com/. The show capitalizes on the popularity of the main actor, Jon Hamm, as well.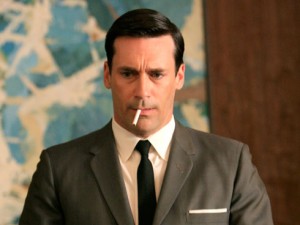 Even though the times have changed a great deal from the period depicted in the series ( We recommend you check out this interesting infographic as well: http://visual.ly/mad-men-vs-marketers-how-art-influence-has-evolved), there are still valuable lessons that we can learn. Here are some particular points Don Draper should have kept in mind:
Teamwork: He lost an important account, without any consideration of the agency's finance situation and of the other people involved in that account, simply because he had personal issues with the client's representative. The main lesson is formulated by another team member, which claims "At least once I would like to see you "we" instead of I". This move resulted in the loss of the opportunity for the agency to go public and earn an important capitalization.

The company always comes first: He did make a big move by uniting the agency with a former competitor company, which then he put at jeopardy by engaging into a constant competition with the creative director of the former company, which reflected into making his colleague look unprofessional in front of his customers and pursuing directly competitor accounts.

The client is crucial: In what was probably his biggest mistake, he destroyed his carefully constructed idea for a campaign when during a pitch he told his client important personal details from his childhood targeted against the idea of advertising in itself ("If it were up to me, you would not advertise"), an action which made the client not want to pursue the campaign and made the agency look bad.
At the end of this string of mishaps, Don Draper was asked to take a forced leave with no return date, which is the closest to a partner being fired. What do you think of these lessons? In my opinion, in addition to the ones described above, perhaps the most important lesson is a quote by Don Draper: "If you don't like what is being said, change the conversation."
Photo Source: http://free-extras.com/images/mad_men_main_character-11213.htm