10 Jul
Why context marketing is more valuable than content marketing
By context marketing, blog, content marketing, Social media marketing, social media trends
Since Bill Gates's 1996 famous article 'Content is king' the minds of marketers have been wired on doing just that – provide unique/great/relevant/SEO optimized/engaging content to consumers.
Truth be told, content was king at the time the internet was young and barely populated. Back then, content filled with keywords was a quick way to cheat search engines and rank higher in the search results. A lot of things happened since then, not to mention that Google got smarter along the way and so did the consumers by blocking out irrelevant marketing messages.
Nowadays nothing works the way it should without the proper use of context (don't you just love clicking on an YouTube video and then wait 5 to 20 more seconds for the attached commercial to pass before you can finally view it?). Simply put, content without context is spam.
It's quite easy to notice that the web is getting polluted everyday with low value content. One of the best examples I stumbled upon a couple of days ago is the number of YouTube videos for 'how to tie a tie' - 2.620.000 videos. Now, I don't claim to be an expert, but I'm pretty sure there aren't 2.620.000 ways to tie a tie.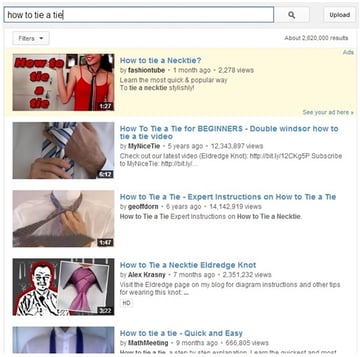 The one thing unnecessary content demonstrates is a lack of understanding for the consumer's content consumption behavior (a.k.a marketers who don't do their homework thoroughly). This in turn determines disruption and frustration on the user side, causing them to find alternatives to your brand.
To better understand context marketing, here are some things you should keep in mind:
- It can be an outlet like a website or a network where you'll post updates to promote your brand or a blog where you'll publish an article about it
- Timing is essential - your online marketing strategy should always take into consideration the best time intervals to promote your brand. Do some A/B testing - test different channels at different times and figure out when and where you get most interactions/shares/comments. Facebook might prove to be the best channel for your new product, but posting updates at 3 am might not generate the best results.
- Don't forget about SEO! In today's social media landscape the context of promoting an article is just as important as the content of the article. The more buzz you generate around a blog post or a video, the more likely it is to get ranked by Google.
I'm sure there are other things that can be added to this list, so feel free to leave your comments below.
Photo: Conrad Bakker
Latest Posts

B2B Sales Prospecting with digital lead generation
July 30, 2020