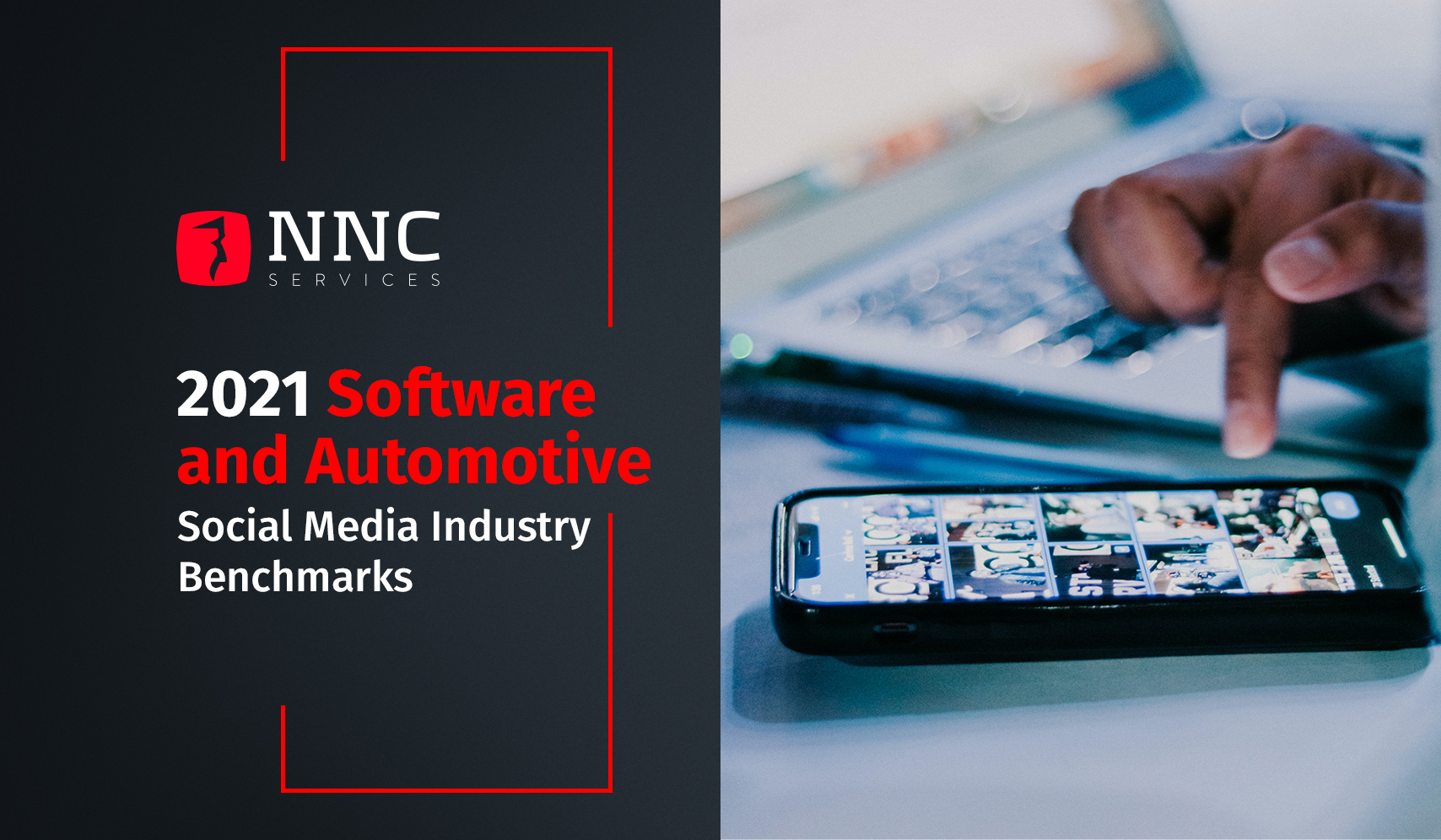 Digital Marketing marketing leadership social media trends trends digital communication strategy Digital Transformation
18 Feb
2021 Software and Automotive Social Media Industry Benchmarks
By Digital Marketing, marketing leadership, social media trends, trends, digital communication strategy, Digital Transformation
We all know that 2020 is been a benchmark year for change. The change came when we least expected it in all areas, from interaction to the way we do business. However, despite all the challenges that we have faced, we have managed to convert them into opportunities for 2021. It's all about business agility and this article will talk more about that. Last year has been a year sprinkled with challenges, opportunities, and threats, and the world has been forced to adapt to a new reality. This new one consists of social distancing, work-from-home environments, drop in sales, human interactions, and companies' readaptation to the constant changes in customers' behavior.
Every year, global organizations draw up plans with objectives, tactics, and strategies to grow and increase their brand awareness. 2021 makes no exception, and this is why a clear overview of what companies need to consider has to be known, analyzed, and understood. Since traditional marketing is no longer a viable option for growth, the marketing strategy needs to go digital to attract and retain customers. This can prove to be difficult, even for the most experienced marketers, since customers shift their focus and behavior regularly. So, how can one company adapt and be digitally agile?
Companies need to understand that customers need to have personalized experiences which is why they need to meet them where they "live," for starters. This does not mean that companies need to stalk their homes, but instead understand which platforms work, which don't, and what kind of approach and recurrence they need to appeal to. This report gives insights into many benchmarks, but we'll take a more detailed look at the software and automotive industries.
Let's start off with some facts and figures that you love
Depending on the vertical of your business, some companies have had an easier time communicating with their audiences than others. Simply put, specific industry audiences can be more or less responsive and engaging on social media depending on the business field.
According to a recent report from SocialInsider.io, the most commonly used platform is Instagram, whereas Twitter is barely used at all. On the other hand, Facebook is all about paid ads, which is reflected in the engagement rate that stayed flat. It's no surprise that in 2020, politics, education, and airline brands were the most successful profiles on Instagram, averaging the highest engagement rates out of all industries. In addition to this, across all sectors, images were still the preferred type of posts on any social media platform, rather than videos, carousels, or links.
Now that we have given you a general overview let's take a look at the automotive and software industries. We'll take a look at how digital marketing has evolved in these two areas and try to understand what happens next.
What about the car manufacturers?
The US Automotive industry is in the midst of robust spending on digital advertising and marketing. For the first time in years, advertisers spent more on display advertising than on search engine marketing. This shift is visible in the automotive industry as digital ad spend increased by 22%. In addition to this, the global sanitary crisis has forced consumers to turn to the internet to do their research rather than going directly into a dealership. This allows automotive marketers to reach larger audiences than before and make their experiences personalized.
A typical consumer spends 90 to 120 days before purchasing a vehicle, which gives enough time for a car brand to provide a rich digital experience. An excellent example of this would be to make a specific car model show up in the customer's social media feeds, based on his previous searches. However, this cannot be done without data. With that in mind, car brands can use the existing data to gain a richer understanding of their customers and, in turn, provide a more intuitive and personalized experience. HubSpot allows you to dig deeper into the data you have at your disposal and create unique customer experiences. NNC Services is a Hubspot Platinum partner agency that gives you the advantage of having experts with industry knowledge by your side in your journey of growth.
The pandemic has taught consumers how simple, convenient and easy it is to buy everything online. The main benefit here is that the online marketplaces, unburdened by the overheads associated with physical showrooms, will offer very competitive prices. An excellent example of how automakers can adapt to this change is to use innovative marketing strategies such as using more social media influences or accepting bookings on third-party e-commerce platforms. Moreover, the biggest story in powering the automotive ecosystem to sell and engage with customers digitally will lie in technology enablers. This means that the automotive industry should embrace a digital-first customer experience strategy and undergo a rapid transformation that is more decentralized and digital. 80% of customers do most of their shopping for a new vehicle digitally, which is why they expect more and more from their customer buying experience.
However, not all is milk and honey in this digital-first approach. While customers have moved their shopping online, there's still a small sign of skepticism over e-commerce. This is due mainly to the unexpected events that can delay the delivery of a product or service. In addition to this, customers still love to buy from people they trust, and while dealers and automakers provide a rich customer experience, this trust is quite hard to build over the internet.
Despite all the opportunities and challenges, the importance of adopting a digital-first go-to-market strategy in the automotive industry cannot be understated, so automakers need to understand their customers' expectations before trying to reach them.
Is software living up to its hype of being ready?
When it comes to software development, companies in the field have seen an increase in sales and ad spending due to the shift in the work environment. According to Socialinsider.io, the software companies' most used platform is still Instagram, followed closely by Facebook and Twitter. The highest engagement rate is seen on Instagram, with 1.84% compared to the other two's lower ones. Even though software companies were up to date with the latest technology trends and tactics, the global pandemic has forced them to refresh their strategies.
In the initial months of the crisis, B2B businesses paused overly promotional ad campaigns, tailored crisis-related content for social media, and used email marketing to communicate new policies. They also increased their spending on social media marketing and digital advertising: 49% for social media, 46% for email marketing, and 43% for digital advertising. Fast forward to almost a year into the pandemic, and software buyer journeys have also evolved to cope with the frequent changes in market conditions, internal policies, strategic priorities, and work environments.
For any respectable software company, it is crucial to keep up with those changes to continue getting the sales and marketing advantages desired in the first place. Furthermore, it is also essential to understand that new essential SaaS marketing strategies are commonplace thanks to the evolving business climate. We have compiled a list of 3 strategies that will allow you to generate more leads and help you understand your customers better.
The first tactic you can use is PPC marketing. PPC services guide buyers as they search for the right solution through third-party source features and generate leads from refined traffic to software providers' sites. If you implement PPC campaigns, you have to monitor the performance basics such as click-through rate, cost per click, and conversion rate. In addition to tracking the movement, you have to research tools to identify relevant keywords that emerge from evolving search patterns within the current climate. Furthermore, you can go beyond search and social media for your PPC campaign and explore relevant software industry sources. Sources such as review platforms, product listing websites, and community discussion forums offer you the opportunity to connect with your buyers ready to make a purchase. At NNC Services, we offer PPC strategies and up-to-date tactics. Get in touch with us and discover our offerings.
The second tactic you can use is to browse through customer reviews and social listening. Everyone knows that good customer reviews on third-party websites help promote software and SaaS offering. It also provides strong social proof of product capabilities and usability for selected target audiences. On the other side, social listening helps software companies to keep an ear out for mentions and comments about their businesses and services on social media platforms. In the current climate of Covid-19, it has become clear and essential to companies that to connect with customers and understand their needs, they first need to leverage both of these components with a robust digital marketing strategy.
The third tactic is content marketing. Whether we are talking about a blog post to promote thought leadership or product resources such as buyer guides, content marketing's success rests solely on whether the content helps your customer. When your target audience and potential customers gain value from the content, it serves as a thriving gateway to greater engagement. Furthermore, it allows you to move the target customer through the sales and marketing funnel. As a piece of advice, hold product launch events, conferences, and seminars virtually. By doing so, you will increase real-time engagement with buyers and help your marketing team create video content that can be repurposed.
Conclusion
The global pandemic has reshaped the way we interact and do business with each other. Digital marketing is becoming increasingly important for every industry and, while consumers change their behavior, organizations need to adapt and meet them halfway.
Whereas some numerous tips and tricks can be found online, an excellent way to ensure digital consistency is to reposition your marketing strategy and offerings to ensure long-term success. Ensuring that marketing materials and outreach guide buyers and prospects with information and insights that clarify product value and reinforce buyer confidence in these times of uncertainty will provide a solid foundation for the future.
NNC Services is a full-service agency with in-depth knowledge of the entire ecosystem and can help you broaden your reach and increase your sales and generate more quality leads. For any information regarding our services, please check out our website and contact us. Our team is ready for the next challenge.
What do you think is the next step in digital marketing for 2021? Please leave us your thoughts in the comments section below.
Latest Posts

How to Plan Your Next Video Project (+Free Template)
June 9, 2021

Why invest in prospecting training?
June 4, 2021

The Benefits of Data Driven Digital Marketing
June 3, 2021

RevOps Enabled by HubSpot's Sales Hub Enterprise CRM
May 19, 2021

Marketing Automation Platform Migration Guide
May 13, 2021