3 Jun
The Benefits of Data Driven Digital Marketing
By Digital Marketing, data driven
Data is the fuel in today's society. From market insights to customer behavior, companies use business analytics and intelligence to not only target their customers better but to gain a deeper understanding of their actions. Since social and digital marketing has become the norm for interacting with customers, organizations need to be lightning-fast when it comes to adapting their content marketing campaigns for the appropriate audiences. This is why data-driven digital marketing is becoming an integral part of everyday business. By utilizing data at hand, organizations lessen the risk of falling behind the competition and reap multiple benefits which we will discuss in further detail in the following paragraphs.
Data-Driven Marketing Obstacles
Before we dive into the benefits, let's see perhaps what are some of the main challenges with adopting a data-driven digital marketing approach. Realizing the significant benefits of data-driven marketing doesn't come without its challenges. Many marketing teams face considerable obstacles when working to put data at the heart of their marketing strategies, tactics, and processes. There are three main challenges:
The proliferation of Tools and Data Sources
Marketing channels and technology stacks have expanded rapidly in recent years. The plethora of channels and tools used by today's businesses can often lead to a fragmented and incomplete view of marketing and sales performance. And while marketing technology is needed and helpful, the addition of each new tool exacerbates the problem in absence of a unified view of results.
Siloed Data
The disconnect between CRM data and all the different marketing activities across tools hinders proper attribution of revenue and accurate ROI reporting. It creates an incomplete or absent view of which activities – sales or marketing – are producing real results. This leads to increasing conflict between sales and marketing and an inability to identify where to direct scarce business resources to drive revenue. Data siloes can also lead to data and reporting inaccuracies.
Limited Resources
Building effective creative content marketing campaign reporting in traditional business intelligence (BI) tools can be a huge undertaking and taxes the resources that marketing departments often find themselves short on – time and money. In addition, marketing teams often don't have all the necessary skillsets in-house. Implementing a traditional BI solution typically requires more than six distinct skill sets and nearly 1,000 hours of effort across multiple functions of the business. The costs can exceed $200,000 for the initial build and ongoing maintenance is required.
The Four V's of Marketing Data: A framework for a data-driven approach to digital marketing
The four V's of data give us an at-a-glance look at the challenges associated with data-driven marketing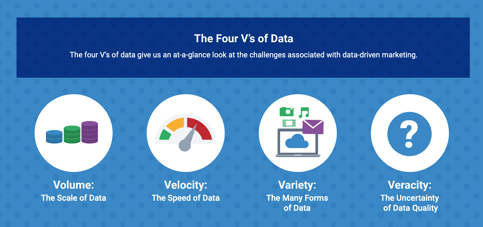 Right People, Right Digital Content, Right Time
Today, for professional and personal purchases alike, we all want personalized media experiences. In this regard, B2B and B2C marketing are no different. Customers, whether they are purchasing enterprise HR software or a new family car, want messaging and content that relates to them specifically. Data-driven marketing allows marketers to meet this customer demand. When you have data about who your audiences are, what they need, and when they need it, you can deliver the right content strategy, to the right people at the right time. This increases engagement, conversions, and, ultimately, revenue.

Better Audience Insights
Understanding customer needs and behaviors is critical to both creating and executing a successful marketing strategy. Data both fuels this effort and is a product of it. By using solid audience data in an email campaign, for example, you then generate more quality data based on the performance of that campaign. This cycle of data being the input and the output of marketing efforts is beneficial to organizations and consumers alike. Marketers can confidently use the audience insights gained from their data-based initiatives to further refine their targeted marketing efforts to give their customers what they really want and get what they really want – revenue – in return too.
Accurate Assessment of Performance
What works and what doesn't? It's an important question for marketers because it can mean the difference between wasted and successful efforts, and it can be answered with data. That data can also help marketing teams stop relying on hunches and anecdotal insights. Data-driven marketing instead provides concrete evidence of how tactics and strategies are truly performing. This accurate assessment of performance can help marketing departments save time and money by aligning around efforts that are the best use of resources.

Improve the Customer Experience
Do you lose touch with customers after their initial purchase? Or do customers stay engaged with your content for a year and then tune out? Or do your customers not respond to your requests for reviews or referrals? In other words, what part of your customer experience needs work? Data-driven marketing can help you get a better view of your entire customer experience so you can identify any gaps or missteps. Armed with this information, you can focus attention on fixing problem areas – perhaps by gathering more data through customer surveys, for example – while maintaining and optimizing those that are performing well.
Communicate Your Team's Value
Marketing departments today are under tremendous pressure to prove their value. Marketing is now expected to be a revenue generation function rather than a cost center. This expectation means that the C-suite has more of a stake and interest in marketing performance. By leveraging data, marketers can communicate their value for regular or ad hoc reporting requests from executives. This focus on data also allows marketing teams to identify any performance issues that arise so they can get ahead of potential problems before they get out of control, further proving their value.
Generate More Revenue
One common theme that runs through the veins of any company is revenue. When it comes to utilizing data-driven marketing, everything becomes simple. Not only can you generate, maintain, utilize and optimize effective marketing campaigns, but you can reap much more revenue since everything becomes relevant for your audiences.
Latest Posts

How to Plan Your Next Video Project (+Free Template)
June 9, 2021

Why invest in prospecting training?
June 4, 2021

The Benefits of Data Driven Digital Marketing
June 3, 2021

RevOps Enabled by HubSpot's Sales Hub Enterprise CRM
May 19, 2021

Marketing Automation Platform Migration Guide
May 13, 2021