1 Aug
Music and social media: where fans meet artists
By artists, Facebook, fans, Instagram, music, blog, blogging, social channels, social media, Social media marketing, Twitter
In the old days, musicians needed a song and a record label. But nowadays, things are changing and musicians have to embrace social media strategies to meet their fans. Either we are talking about famous artists or just those who are at the beginning of the road, social media should not miss from the communication strategy. Let's delve more into this topic and have a look at the best social media channels for musicians to interact with their fans.
Facebook:
This is a great platform to be used by musicians. There are several ways to communicate with the audience by using this channel: sharing the latest tracks or photos from concerts/ events are a great way to make the fans communicate with them. Fans appreciate sharing important content using a kind of semi-formal language but also funny in the same time and of course photos regarding personal experiences or life events. And without a doubt, people appreciate a lot sharing funny quotes or images. Here's one example: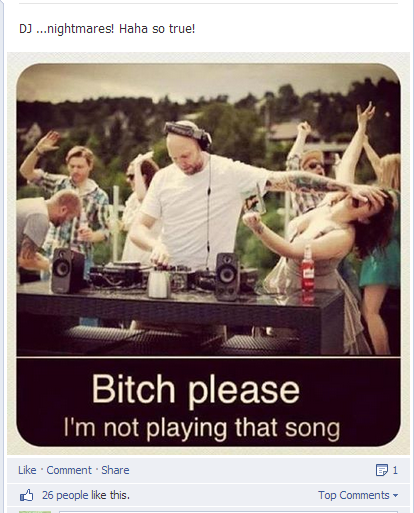 Facebook is also a great place to share tracks via SoundCloud for example, for uploading music videos of making of videos, make announcements about new tours and events.
Instagram:
As we all already know, visual networks are preferred by everyone. Now it is the perfect moment to use Instagram at its most - share personal updates with followers, they are looking forward to seeing new, beautiful pictures with their favorite artist and its day by day activities.
Twitter:
With its new released music service, people are able to hear previews of song, log in to streaming services and search for popular music and musicians on the microblogging site. So if you were not sure whether to go live on Twitter or not, now it's the perfect moment to do that. Also, it is a great way to stay in touch with audience, to engage and interact with followers, to build relationships with music bloggers, to announce events and tours. Popular artists including Kanye West used their Twitter profiles to give away exclusive videos, images or downloads for their followers.
YouTube:
An YouTube account is extremely important for every musician. create a channel with your name and allow fans listen your music. This is something you cannot miss if you are in the music industry.
Blog:
If you choose to create a blog for your communication strategy, you must keep it simple. Upload pictures from the events you participate and write a few words explaining the theme of the event or any other important data. However, keep it simple. Short and simple!
Have you noticed communication on other social media channels having great success in this industry? Please feel free to share your knowledge with us in the section comments below!
Latest Posts

SEO is the new gamechanger in the times of Coronavirus
March 30, 2020

How to grow your B2B pipeline in challenging times?
March 19, 2020