1 Feb
Your B2B Marketing Plan for 2018
By B2B, B2B Marketing, Marketing Planning, Tactics, Tech
Is your B2B marketing plan for this year all set or do you still think how to achieve your goals? If you're looking for ways to step out of the crowd, here are 5 stages to complete when setting your B2B marketing plan up.
List Your Business Goals
It all starts with clear objectives, so what do you want to achieve? Let's say you want to increase the number of people who choose your services by 15% until the end of the year. Now you have a specific and measurable goal, and it's time to do some research to see how you can accomplish it.
Research to Prepare Your B2B Marketing Strategy
In this phase, it's essential to analyze your competitors and to perform a SWOT analysis for your company. What are your strengths, weaknesses, opportunities, and threats related to your competitors? This will help you understand your differentiator, more precisely why the customers would buy from you instead of them.
Define Your B2B Marketing Strategy
Speaking of customers, start your B2B marketing strategy with creating buyer persona profiles. Who could be interested in your cloud services, how big are the companies, where are they located? According to Cintell, 93% of the companies that exceed lead and revenue goals have segmented their database by persona, so don't miss this step. Then create or improve the buyer's journey, from awareness to closing leads, you have to be aware of the phases your buyer is going through and approach him properly.
Set KPIs and Measurement Methods
Tracking, measuring and reporting are important, and you should consider them as soon as you put your marketing plan into action. You could do this weekly to see what's working and what you could improve. You can use Analytics to check your web traffic numbers or you can keep track of your sales-qualified leads. There are B2B dashboards and you could include email opens and downloads and channel engagement metrics. Keep up with the trend in the Tech industry and align your sales and marketing efforts for better results.
List Tactical Plans
You can choose on which tactics to focus this year and to set up your budget according to your priorities. There are different types of content, marketing collaterals, and tools, as shown below, and you can use them in various stages of the buyer's journey.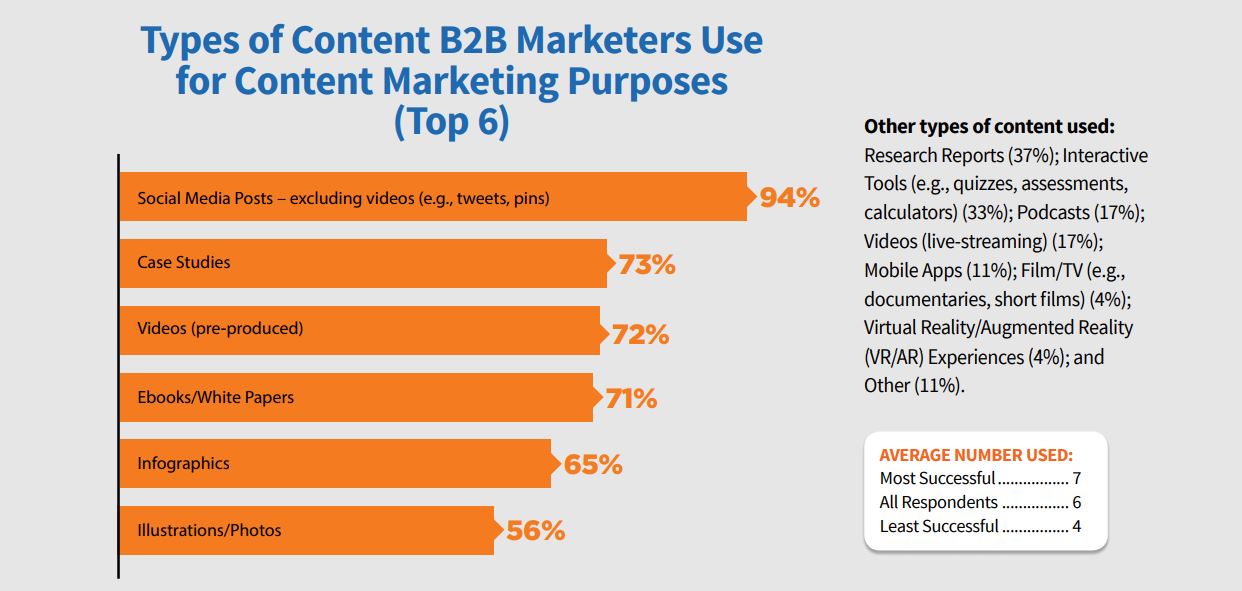 Source: http://contentmarketinginstitute.com/wp-content/uploads/2017/09/2018-b2b-research-final.pdf
For instance, you could include blog posts about cloud security concerns, statistics, and forecasts. You could invest more in videos and whitepapers related to your cloud services or in email campaigns. According to HubSpot 86% of professionals prefer to use email when communicating for business purposes. Your strategy should include all these aspects, as well the channels you choose to integrate, and, of course, don't forget about SEO and keywords related to the Tech Industry.
Whether it's inbound or outbound marketing your focus this year, if you need some help with your B2B Marketing Plan and your lead generation goal, get in touch with us.