20 May
Accelerate Your B2B Lead Generation Process with these LinkedIn Tactics
By B2B Marketing, b2b social media, Lead Generation, LinkedIn marketing strategy
When it comes to promoting content that can generate leads and increased audience engagement, LinkedIn is the platform that most of the B2B marketers will use. That is because there are more chances to receive qualified leads from LinkedIn than from other platforms.
79% of B2B marketers believe that social media is a differentiator when it comes to marketing channels. Most of the B2B marketers will choose LinkedIn as their go-to platform to communicate with the audience. As a result of a well planned LinkedIn strategy, 80% of B2B leads come from LinkedIn, as a recent report showed.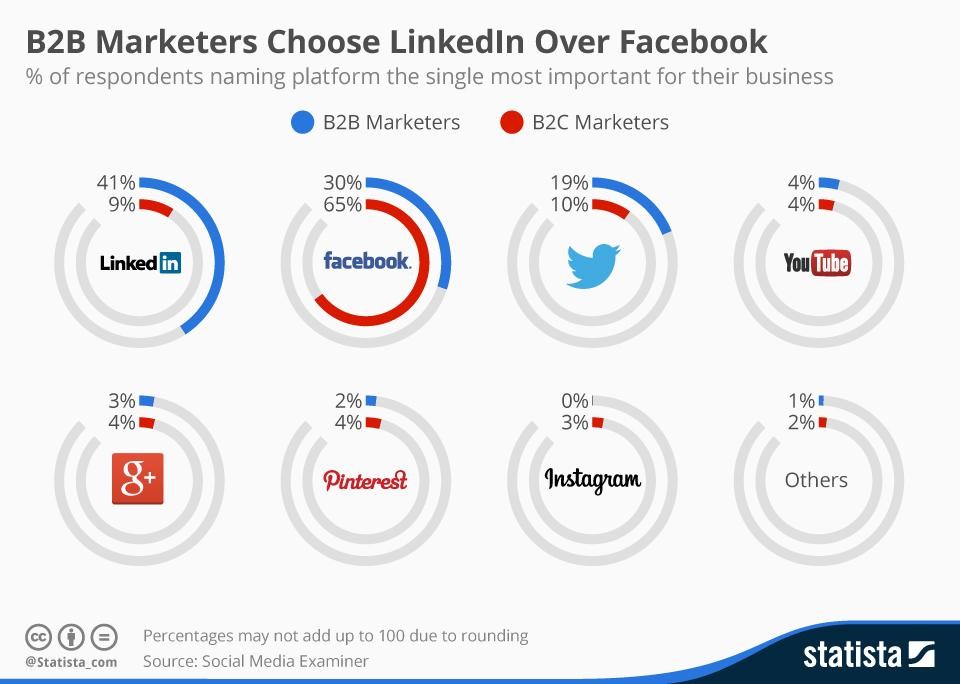 In this article, we will dive into 4 LinkedIn tactics that can drive business growth by complementing a reliable lead generation strategy.
1. Publishing on LinkedIn to create awareness
In the past few years, LinkedIn has gradually transitioned from being a platform for recruitment purposes mainly, to a professional networking channel where individuals are being educated and informed from the content shared by their connections and favorite pages.
B2B marketers can use this channel to build awareness and drive leads for their clients effectively. Implementing a personal branding strategy on LinkedIn can prove to be essential for achieving these goals since branding is well known to complement lead generation marketing.
Publishing stories, professional expertise, lessons, or curated industry trends on LinkedIn are a few activities of content marketing that most marketers use to build a personal brand and to increase engagement with their connections. But remember that only an authentic and constructive type of content will attract leads and convert them into customers.
An external team of B2B marketing professionals can help your team deliver valuable content, to the right people, at the right time, via LinkedIn, that will drive lead generation and finally increase the ROI of your marketing investments.

2. Networking in LinkedIn Groups to engage with prospects
Groups on LinkedIn can prove to be extremely successful to businesses and individuals looking to connect with like-minded people within their industry. In an era where content has increased significantly, B2B marketers have to amplify their efforts to build a strategy that will help businesses position themselves as thought leaders and business community leaders.
There are two ways of exploring the real potential of LinkedIn Groups to achieve this goal:
To monitor the effectiveness of your marketing efforts, there is a set of critical metrics that will give you a broad perspective of where to bring improvements and what works best for your business:
Number of new contributors

Number of discussions

Quality of conversations

Number of profile views

Number of new connections
Engaging the prospects in conversations from other existing groups
Being connected to other professionals within these groups will allow you to share content that speaks about your industry's and customers' most pressing or unique challenges, in a way that will drive peers to raise questions and, eventually, build a secure path to a future partnership.
What is more important about having a constant connection with other professionals in these groups is that this can bring sales opportunities very fast, especially if we are speaking about groups with a high number of members.
A report showed that 43% of B2B marketers accredited their sales to LinkedIn when looking at the three leading social media platforms. In contrast, only 24% of B2B marketers attributed their sales to Facebook and 20% to Twitter.
The main factor is that LinkedIn has proved to be an excellent platform for paving the way of a buyer's journey since it creates a nurturing environment for individuals who are looking for recommendations on different products and services, as well as those providing the guidance.
3. Enabling lead generation with Paid LinkedIn Campaigns
In times when businesses are looking to grow with cost-effective strategies, LinkedIn brings the advantage of a lower cost. For B2B marketers looking for demand generation, this platform steps in with a 28% lower than Google AdWords cost per lead.
In LinkedIn, there are two main types of campaigns that B2B marketers can approach for their lead generation strategies:
The primary reason why lead gen forms are so great for B2B marketers is that they can generate high-quality leads in a very user-friendly way. These forms will be one of the top choices for lead generation management since it is effortless to access and manage your leads, once acquired.
More than that, when monitored through lead gen forms, your campaigns will quickly show the ROI, meaning that you will be able to focus on the right data in the future.
Recent studies show that videos are increasingly efficient for B2B marketers, since they have a higher engagement rate, amongst other forms of content.
How many times have you thought about engaging ways to speak to your audience about your products and services within 30 seconds or less?
It seems that from 38% of marketers who are posting video content on LinkedIn, 75% find it a very effective content strategy.
Video Ads will help you build creative, visual stories that can include a bold Call to action, resulting in more traffic to your website.
When creating video ads for LinkedIn, remember to add subtitles, since most of the LinkedIn members will watch them with their sounds turned off.
Videos are not the only visual content form that will generate leads for a growing business. With LinkedIn, B2B marketers can create carousel ads that will eventually help them build awareness on services and products.
All of this, by creating content that tells a story through multiple visuals that can be swiped horizontally by individuals scrolling through their LinkedIn feed.
For beta advertisers, using carousel ads seems like a natural thing to do. 75% of them confirm they will use this form of ads in their future Sponsored Content campaign. The main reason for that is the high engagement and click-through-rates they have seen in past campaigns.
4. Attract your audience with InMail Campaigns
Personal connection! Most social platforms users are looking for personalized content that will speak to their needs and engage them in becoming a part of the communities they are most interested in.
As a B2B marketer, you can use InMail campaigns to send personalized messages that will accomplish that goal. By integrating InMail campaigns with other LinkedIn ads formats, you will help your business improve its marketing performance, and eventually increase the lead generation.
One of LinkedIn's most recent reports shows that by launching Sponsored Content and Sponsored InMail together for the same marketing campaign, their CTR has increased by 43%, and the engagement by 40%.
InMail Campaigns are essential if you are looking for:
Increasing Brand Awareness

Building Thought Leadership

Generating Event Registrations

Generating Program & Certification Enrollments
If you are looking to top your lead generation strategy, LinkedIn InMail Campaigns will show an optimized performance, since senders can receive a 300% response rate from InMails, if compared to other email or messaging platforms.
To create an attractive message for your InMail campaign, try to speak clearly and personally about the products and services you want to promote. LinkedIn will deliver it to you for the right audience at the right time.
Final thoughts
The main social media platforms can help your brand to outshine others. It all comes down to choosing the most suitable mix of tools and platforms that will build up a strategy aligned with your business's needs and resources.
With 94% of B2B marketers using LinkedIn for content marketing, this platform shows excellent potential to position your brand as a community leader. When looking to invest in a LinkedIn strategy for lead generation campaigns, look for a team that has proved herself a growth enabler for the business community.
Get in touch

with us, and let's find out how LinkedIn can
create awareness

and

drive more leads

to your website in the most efficient way!
Latest Posts

B2B Sales Prospecting with digital lead generation
July 30, 2020