10 Jul
The Inside Out of B2B Marketing: How an ABM Strategy Upscales Inbound Methodology
By B2B Marketing, Hubspot Inbound, ABM Strategy
ABM defines the synergy between marketing and sales teams, capable of closing large and complex deals with a specific number of high-value accounts. The process of identifying these accounts adds an extra stage to the inbound marketing process, which is vital for an ABM approach.
During the last webinar, hosted in collaboration with Apeak Solutions and HubSpot, Ken Smith, VP of Digital Marketing, and Sophie Salzman, Principal Channel Account Manager, have answered a few essential questions concerning an ABM approach:
How to sell high-value B2B products or services effectively?

What are the steps to create an effective ABM Strategy?

What are the tools you need to run a successful ABM strategy across Marketing & Sales teams?

How to make people engage using personalized content?

How ABM features work in practice?
In this article, we want to give you a glimpse into the discussion from yesterday's webinar, focused on HubSpot's ABM features. If you're interested in listening to this webinar, you can find the full recording on our YouTube channel.

Is an ABM approach feasible for every B2B company?
That is one question that can be answered in detail by business experts who have already experienced what differences this approach made to their company. Nonetheless, you should count on ABM as a go-to strategy, especially if you find yourself in one of these scenarios:
Your business has a

high-priced product

You mainly sell to buying-committees

Your prospects are either focused on a

particular niche

or are massive companies
If one of these scenarios speaks about your business, you will see that after integrating an ABM strategy, you will make the most of your marketing and sales efforts, by:
Closing bigger deals

Closing deals faster

Strengthening collaboration between sales and marketing teams
How to create effective ABM campaigns with HubSpot features
The increased use of new technologies helps digital marketers to execute their activities at a different level, with improved effectiveness. It is the case of account-based marketers, as well.
The right approach will help businesses everywhere to focus on accounts that have the potential to grow these businesses, and HubSpot's ABM features is an excellent ally for implementing a successful account-based strategy.
Through HubSpot, account-based marketers can have a tailored approach, since they will be able to direct the effort to only a few selected prospects. And what is great about this platform is that you can personalize each one of your Inbound materials, from landing pages to emails or forms, resulting in high-quality customer experience.
Engaging with prospects and monitoring the results is also something that you will easily do through the HubSpot platform.
As a quick overview of the HubSpot's ABM tool, here are three main features that users can find on their dashboard, and integrate it with their activities, to increase the marketing and sales performance:
Contact Property

Company Overview
If you are looking for more contextual information, you can look at the discussion from our last webinar, How HubSpot ABM Features Can Enable Your Business Growth.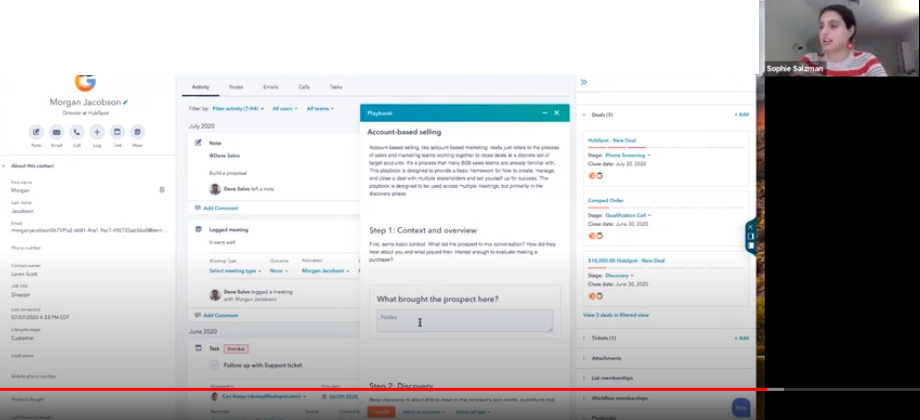 Interested in learning more about how we enable great outcomes for our customers through essential HubSpot features that improve customer experience and team alignment?
Get in touch with us if you have any questions on how you can build your own ABM strategy and how HubSpot can be your go-to platform for that.
Latest Posts

Stop Selling and Start Helping. Now, More Than Ever.
November 25, 2020

Tips for Planning Your B2B Digital Marketing Strategy
November 25, 2020

Best Marketing Automation tool for Microsoft Dynamics 365
November 18, 2020

How to plan your B2B Marketing Strategy for 2021?
November 13, 2020

The Pardot VS Hubspot Migration and Switch Guide
November 11, 2020

The 2021 B2B Lead Generation Prospecting Strategy for RevOps
November 9, 2020