20 Aug
The rise of Tumblr
By B2B Marketing, online marketing, blog, social media, Social media marketing, Tumblr, Twitter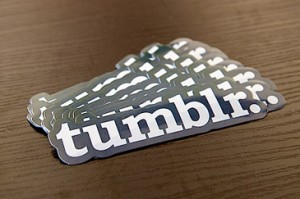 There's no doubt that social media is a powerful marketing and communication tool and many businesses want to improve their presence in the online environment by using social channels. On the other side, all social media channels are trying to add more functionality and to encourage businesses to promote on their platforms. Even if you haven't used them, you must have at least heard about Facebook or Twitter, but these are just the "front-office" of social media channels. Today, we'll want to bring you more details about Tumblr - a user-friendly microblogging platform, a combination of Twitter and the traditional blog, that it's quickly becoming one of the most important social media channels. The site allows users to upload images, videos, audio clips and quotes to their blogs.
But what has made Tumblr grow so fast? The platform was launched in 2007 and is currently reporting that 120,000 new Tumblr blogs are created every day, totaling 86 million blogs which drive 18 billion page views per month. The boom has started last year, when the company has grown with an awe-inspiring 900% and is now clearly climbing to the top of mini-blogging and social networking platforms. Tumblr offered users easier designs, the ability to share photos and the option to follow other bloggers.
And now the main question is why should we use Tumblr instead of Twitter or WordPress? One of the big differences between Tumblr and Twitter is that Tumblr does not display how many followers a user has. This can be a great thing because it makes us focus more on communicating with a community and less on broadcasting to an audience.
Why the media thinks that Tumblr will be the next big thing in blogging? That's easy: first it's a free platform, more interactive, easier to use and even though it doesn't have the power of WordPress yet, the number of blogs create on Tumblr monthly is higher than those created on WordPress.
If this is not convincing enough for you, then you need to take a look to the Tumblr profiles of these businesses:
- The Huffington Post's Tumblr blog is about "news, culture and op-eds from the Huffpost Newsroom."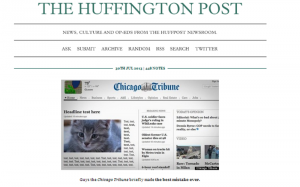 - IBM has not one but three blogs. Their primary, A Smarter Planet, posts content related to "a planet that is instrumented, interconnected and intelligent."
- Universal Music on Tumblr is the blog for the music company Universal Music, "home to such artists as Lady Gaga, Rihanna, Taylor Swift, Maroon 5 and many, many more." Their posts contain photos, captions or free music on Rdio.
Nearly every major company has felt the need to add a Tumblr share option for users and many also run their own Tumblr blogs to get more traffic. The audience tends to be younger ( 54% are under 34 years ), so short and highly visual blog posts are more successful than text-intensive posts. The users are highly engaged: 2% of the users make up 43% of total visits, 42% of users are located in US and the most usual topics are about: film, food, animals, music, fashion and art.
Tumblr creates a great opportunity for innovative companies that are looking to promote smart content in new audiences interested in creative photos and video posts and to redefine the engagement level. Do you think that your company needs to include Tumblr in the marketing plan?