23 Jun
Design Thinking Framework: The Foundation of an Innovative Business Strategy
By Agile Marketing, Business Development, Business Strategy, Design Thinking Model, Innovation
Design thinking is a process that plays a significant role in problem-solving for businesses looking to achieve substantial results. To efficiently organize ideas, make decisions, improve operations, and gain more knowledge, design thinking comes into play, as a fusion of creative and critical thinking.
According to specialists in design thinking, this is a process that is most successful during
uncertain times
,
as it is the crisis caused by the Coronavirus pandemic. In this article, we will start a discussion about design thinking, from a crisis perspective, which continued during one of our previous webinars, hosted by Tudor Juravlea,
Co-Founder at the Design Thinking Society.
You can have a look at the recording below.
How businesses should focus on offering personalized experiences
When discussing the design thinking process, most specialists will take a first-step on approaching these two aspects:
Experience transformation
More and more decision-makers are looking to follow some design thinking patterns from top-notch professionals that already have in-depth expertise.
To bring innovation to their customers, these leaders will filter processes through their business model to fit their company's needs. Most importantly, they look at their customers' behavior and build a design thinking process capable of transforming their mindset.
Many professionals agree that the design-thinking model helps them challenge their ideas while coming up with collaborative solutions that will bring a unique result for the services or the product they are working on.
But for most decision-makers, there is one model that has proved to be efficient, since it aims at innovation, and it is a significant part of the design methodology.
The double diamond model: research & design
This model is not only used by designers, but also by other specialists looking to explore a problem in-depth (divergent thinking) and then taking focused action (convergent thinking).
The double diamond model representation can be split into four parts: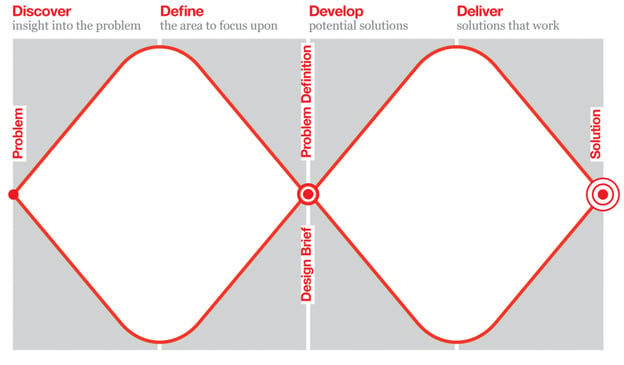 Source: uxdesign.cc
This first diamond reflects the research part, where the designer will try to understand the problem by engaging with his subject, in our case, the customers. Understanding the problem will help him define the challenge, which is also a part of the researching step.
As part of the second diamond, the next two actions represent the designing process. To create a sustainable developing environment for a solution, there should be a diversity when looking for answers to the problem previously found. To deliver an optimal and innovative solution, the team has to test all the solutions, to improve those that have potential, and let go of those who aren't working.
To create a personalized solution, that is in line with the needs and requirements of your audience, means to expand your perspective and think broader and towards the future. By offering a unique experience, you will be able to attract and increase the number of loyal customers.
A customer-centric business model - built by design thinking
We mentioned briefly what design thinking is and a few crucial aspects of applying a design thinking model. We raised the problem of using this model for strategy development, especially during a crisis.
Solving problems during a crisis and developing solutions fast can be very challenging, and that is why design thinking should be at the core of adapting to new situations, or in cases when products, services, or processes need to be improved.
Assuming that you are in one of these cases, where will you look first to gain different perspectives concerning your service or product? Design thinking specialists will have one fast answer to this question: At the customer!
Theodore Levitt

, an economist and professor at Harvard Business School questioned companies to ask them– what business are you in?

To emphasize the idea, he mentioned that General Motors is not a car company but is a company providing people with their transport needs. Defining their offerings in the broader terms of customer needs, the companies can serve multiple markets and remain resilient in the face of rapid change.
A customer-centric approach will bring significant benefits for the innovation of your business and the transformation of the customer's experience. Customer-centricity is a key competence for design thinking, and specifically for digital transformation.
Final thoughts
If your business is looking to define new directions strategically and innovatively, design thinking models have proved to be efficient for many decision-makers going that way. Get in touch with us, and let's see how we can find solutions that appeal to your customers and make your business grow!
Latest Posts

Stop Selling and Start Helping. Now, More Than Ever.
November 25, 2020

Tips for Planning Your B2B Digital Marketing Strategy
November 25, 2020

Best Marketing Automation tool for Microsoft Dynamics 365
November 18, 2020

How to plan your B2B Marketing Strategy for 2021?
November 13, 2020

The Pardot VS Hubspot Migration and Switch Guide
November 11, 2020