19 Sep
B2B Marketing Tactics Benchmark Study for IT&C Business
By b2b best practices, B2B Marketing, go-to-market channels, IT marketing, Lead Generation, Marketing, b2b tactics, technology marketing
Earlier this year NNC Services elaborated a benchmark study to identify what are the best practices and benchmarks when it comes to business development and lead generation of information technology companies, be it software, solutions or service providers.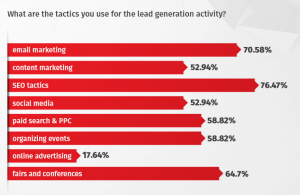 The study revealed that classical e-mail marketing and SEO are on top of the preferences when it comes to lead generation channels for a Romanian IT&C company. This seemed to be constant amongst small-medium businesses.
Large IT enterprises, however, favor email marketing but also tradeshows to promote their solutions.
Although more than 70% of all interviewed businesses do implement lead generation activities, it is clear that there are significant differences between the preferred go-to-market channels depending on the company size.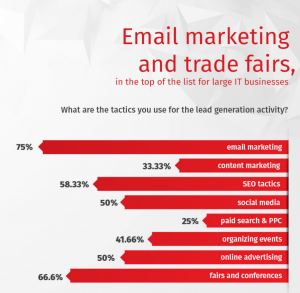 Different importance is also placed on the business development strategy based on the IT&C software and services business size as well as on the b2b marketing KPIs that are monitored in the marketing campaigns.
What is your take on this findings?
Download the study here to get more information on "How to grow an IT&C business in Romania".
Latest Posts

B2B Sales Prospecting with digital lead generation
July 30, 2020